There's the Easy Way and then There's the Right Way: The Making of the Jack Daniel's Barbecue Poster Series
June 15, 2019
Time and craftsmanship have made this annual poster series a beloved souvenir of the event, a regular visual featured in media coverage, and a nationally recognized and awarded work. In fact, the 2018 series just took Gold and Silver at the American Advertising "Addy" Awards. But most importantly, it is a wonderful expression of the Jack Daniel's Tennessee Whiskey brand.
It all begins with time spent with the client. The poster series is produced for the global whiskey brand that Finn Partners' Nashville office has served for 32 years.  The project itself is in its 19th year and running. That kind of familiarity with a client and a project means a deeper understanding and application of brand voice and character, as well as knowledge of visual equity. The process of developing the provocative concepts, the engaging folk visuals and the wry copy involves multiple concepting sessions and a great deal of client collaboration. In other words, it requires time.
Next comes the craftsmanship with the physical printing of the work. Once the concept and rough art has been approved, the work travels to Sara and Bobby Rosenstock, a husband and wife team who run a letterpress printing studio in the Appalachian river town of Marietta, Ohio. There, wood blocks are hand carved and the posters printed on an antique Vandercook proof press.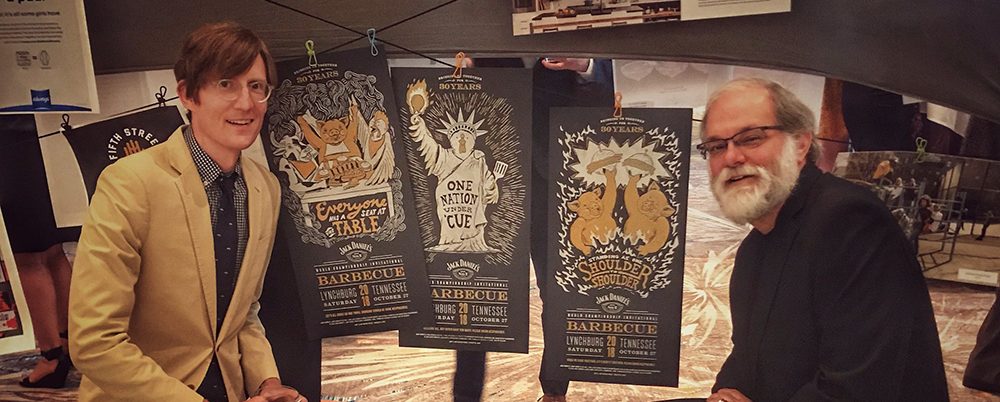 Sean Williams, Finn Partners associate creative director and the chief concepter and art director on the project, explains it best. So I'm going to give him the floor for a sec: "Nothing can substitute for the look and feel of old-time letterpress printing – pass your hand over a poster and you can feel the physical indention of the carved blocks that are pressed against the paper in this old school printing style.
"There are easier and simpler ways to make a poster but there's no better way to make a Jack Daniel's barbecue poster. Just as there are easier and simpler ways to make whiskey but no other way to make Jack Daniel's Tennessee Whiskey."
The right strategy, the right concept, the right medium and design – it all requires time and an eye for craftsmanship. But the proof is in the work just as its in the whiskey.