Need a tagline or a more inspiring story?
August 22, 2019
First the obvious. A tagline is not for everyone.
A tagline is one tool, among many others, to help distill and convey your firm's brand promise or story.  However, most large professional services marketing firms don't even bother with taglines or a brand promise. Some think it is too hard to sum up all they stand for in a line.  Some disdain or even ridicule the use of these lines.  Others find them essential. Different strokes.
Take law firms for instance, only 20 of the AmLaw 100 have overt tag lines.  How do we know? We looked it up using our SiteVisits catalog of large firm websites. Among the 20% of law firms with taglines are Sidley, Jones Day, Greenberg Traurig, Akin Gump, Dorsey and Cooley.  Great firms.
On the other side of the professions, just over 20 of the largest 100 accounting and/or consulting firms rely on a line to express themselves or position their firms.  Notable examples are EY, Accenture, Grant Thornton and Baker Tilley.  All leaders in their fields.
Let's call this the 20/80 rule. Do the math and you see that 80% of large professional service firms do not have a tagline or an overarching theme for their communications. What are the 20% getting for their approach that the 80% aren't?  For starters, those with the best lines and brand communication platforms, supported with great design and content, get clarity of message, consistency of message and an organizing theme that results in differentiation.
Here are five of our favorites taglines in context with examples of how they help firms articulate a competitive position:
Building a better working world. This is a pervasive theme that anchors everything EY communicates—the website, digital ads, thought leadership, proposals, even speeches.  I recently heard a senior EY executive weave the line into a talk about the future of professional services delivery.  The theme is given shape by the notion of better questions (or #betterquestions for social media). It suggests EY's ability to ask and answer the toughest questions.  Two examples from today's EY website:  "Setting the pace or keeping up, is your board future fit?"  Or "How do you connect with connected customers? " Rinse. Repeat. Differentiate.  Note, we had nothing to do with EY's brand.  We're just fans.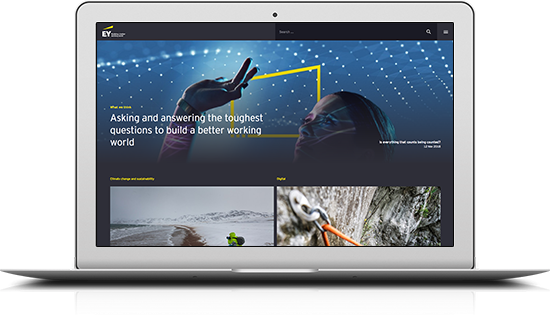 Accenture.  New Applied Now.  Long a professional services marketing pace setter, Accenture replaced the much admired High Performance Delivered a couple of years back with New Applied Now. The idea and the position is simple. Technology-fueled innovation, disruption and the promise of new (and better) are all around us, but most companies don't know how to apply the new to create value.  Enter Accenture. Like EY's better questions, the New Now theme runs through everything Accenture communicates and does.  Even a business unit name gets into the act (we know because we helped with the name).  Accenture Analytics became Accenture Applied Intelligence.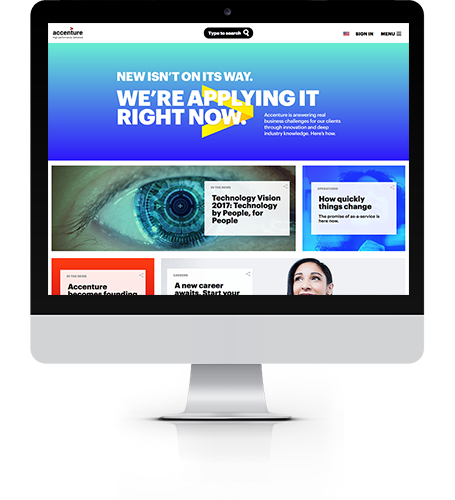 Barnes & Thornburgh. At the Heart of Business.  Barnes & Thornburg is a full-service (top 100) business law firm representing companies deeply woven into the fabric of America.  Across every industry, the firm's clients are familiar and iconic. We know, because we partnered with the firm on this new brand, website and more. The rebrand is designed to underscore Barnes & Thornburg's position at the heart of the business, a nod to its midwestern/heartland roots and growing national footprint. Website visitors are immediately met with visual representations of the firm's clients' customers; everyday Americans living everyday lives. Warm images and choreographed animation demonstrate unique value and provide a uniquely Barnes & Thornburg experience.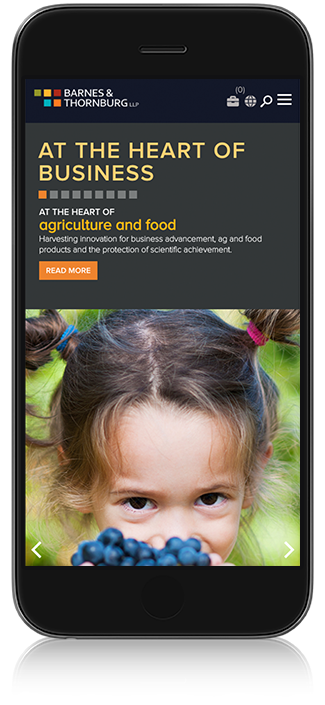 Kilpatrick Townsend. Counsel to Innovative Companies and Brands. Since we are proud brand parents and helped author the firm's positioning strategy and flexible tagline, we are a bit biased about the approach. Nevertheless, we like the strong positioning that anchors and pervades the firm's digital and offline communications (which we designed). Two KT brands, the global IP powerhouse and the top 100 full service firm, are reconciled in the promise: "Counsel to innovative companies and brands around the world." The firm aligns itself with the clients and brands it serves in the tech, media, health, and other sectors. The message is clear: KT is counsel to disruptors, trail blazers, connectors, pioneers and other leaders in their fields.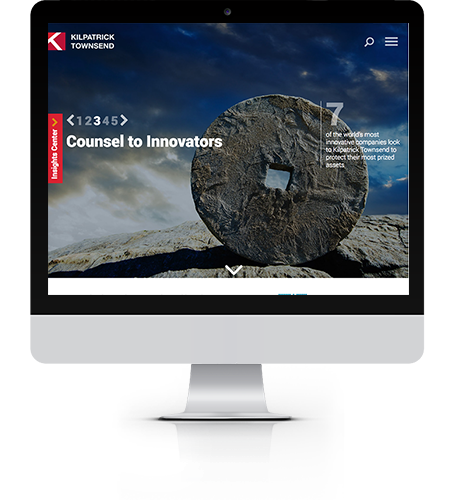 Jones Day. One Firm Worldwide.   Jones Day has used one firm worldwide for the better part of 25 years as it marched to global prominence. It is more than a theme. The three words reflect the Jones Day culture, operating model and client service philosophy. The line doubles as both a statement of where Jones Day people work and as a unifying, values-based brand promise. In professional service firms, brand is reputation and reputation is behavior. In Jones Day's case, the notion of a collective, cooperative, one-firm approach is backed up with client satisfaction ratings. Reader beware: Jones Day is another great client, so we tend to rave about them.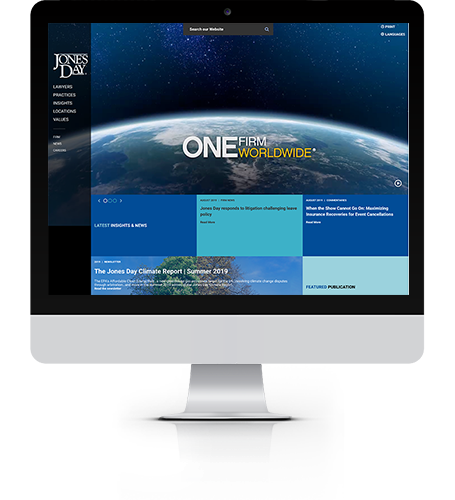 Nice, you may say.  But we are not a large firm, with a large firm marketing budget?  Smaller firms can loom large in buyers minds too with themes of their own. You may find some inspiration in these smaller firm approaches:
HMS Valuation Partners. Delivering Value Beyond the Numbers.    This small, but far reaching consulting firm provides valuation expertise in healthcare mergers and acquisitions. They establish the value for a deal for both financial and regulatory purposes.  The tagline "Delivering Value Beyond the Numbers," speaks to what HMS does and how they care for their busy, deal-driven clients.  Touching all communications, including recruitment marketing, the line articulates the service principles HMS clients value most, like "Accurate opinions, without the bull."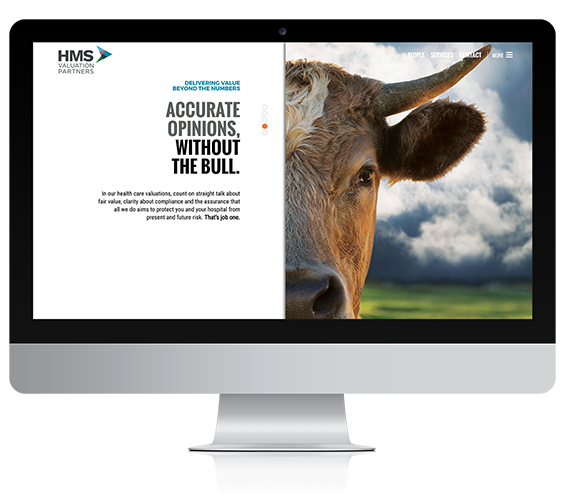 Burns Levinson. Amazing Clients. There are a number of great accounting, law and consulting firms who care for mid-market companies and high net worth individuals. We've met and worked with many. None impressed us more than the lawyers and advisors of Burns Levinson. When we were invited in to help tell the firm's story, we found the line, "Amazing Clients," buried deep in their old website with some aged testimonials. We loved the double meaning in the line and set out to share both the who and how sides of the story. Who are client stories.  How are client services philosophies that reflect the firm's business model.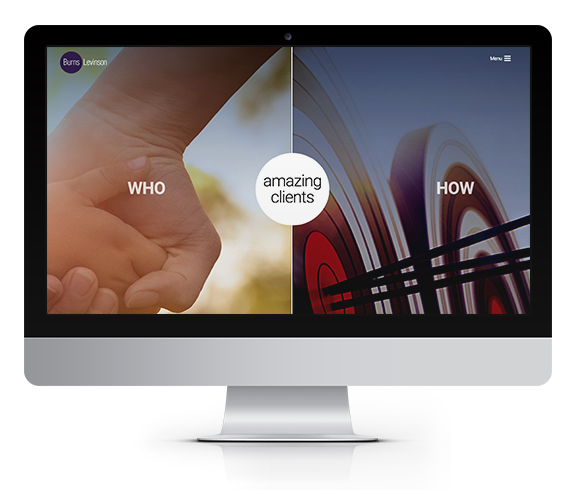 And for the remaining 80% with no taglines?   There are clearly many strong brands with excellent marketing communications who do not have taglines.  Some of those include McKinsey, Goodwin, McDermott Will & Emery, Plante Moran, and Skadden. We could go on.  Yet, more often than not, in the rest in the 80%, lacking either an organizing theme or excellent marketing communications, we mostly see a sea of sameness.
So, what's your line?