Navigating the Updates to the GRI Standards 2021
April 19, 2022
Over the past decade, the one constant aspect in the ESG reporting framework space has been that of change. Specific to the Global Reporting Initiative (GRI), there have been updates from G3 to G4, then from G4 to the GRI Standards, and most recently to the updated GRI Standards 2021.
There are several changes to these standards that reflect the evolution of ESG disclosure and what it means to transparently report on your progress: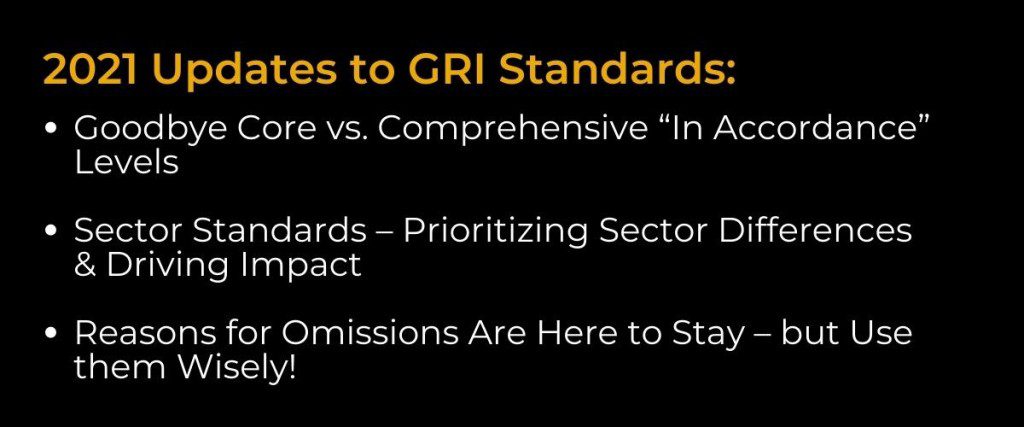 Goodbye Core vs. Comprehensive "In Accordance" Levels

There is no longer a "core" or "comprehensive" level of reporting. Organizations can claim to be "in accordance with GRI" if they fulfill nine specific requirements. Eliminating the option for either core or comprehensive ensures reports are fully aligned to the most critical framework requirements, creating stronger reports across the board.

Sector Standards – Prioritizing Sector Differences & Driving Impact

Sectors share common activities impacting the economy, environment and society. According to GRI, more consistent reporting on sector-specific impacts increases transparency and accountability for the issues that matter most. It can drive targeted action and decision-making that helps organizations improve their contributions to sustainable development. With the 2021 update to the Standards, GRI has prioritized the Sector Standards and has incorporated alignment to the Sector Standards as a crucial step to formal GRI alignment. However, it's important to note that this does not replace the materiality process but instead should serve to supplement organizations' findings through that process. Although these Sector Standards are meant to create consistency across sectors, it's important to note that one size does not fit all. If a material topic within your Sector Standard does not apply to your organization, you are able and required to provide a reason for omission.
Oil and gas, coal, agriculture, aquaculture and fishing are the first sectors prioritized under the GRI Sector Program based on their significant environmental, social and economic impacts. Thus far, GRI released oil and gas Sector Standards in October 2021 and coal most recently in March 2022.

Reasons for Omissions Are Here to Stay – but Use them Wisely!

"Reasons for omission" have luckily stayed the same but GRI rightfully and firmly states that overusing certain reasons for omission (specifically, confidentially constraints and unavailable information) decreases the credibility of reports. Many organizations claim to be comprehensive in their disclosure but use these omissions to get out of sharing pertinent information.
So, what should you do if you plan to align to GRI or would like to continue your alignment?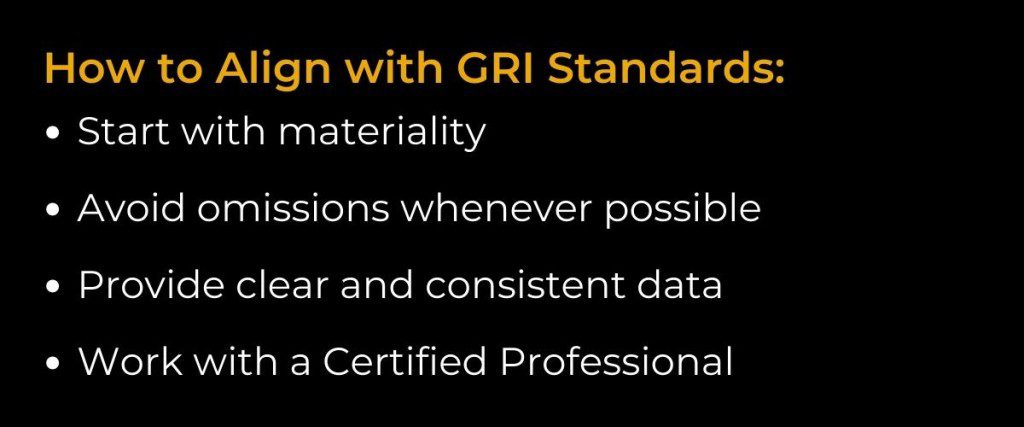 Start with materiality – There is no way to get around this step in your reporting journey. It is critical to conduct a materiality assessment (at least once every three years) to understand where your greatest impacts are and what your stakeholders care most about. This will ensure that not only the content of your report is decision-useful for stakeholders but also that your strategy is aligned to the areas where your organization can make the greatest impact.
Avoid omissions whenever possible – A report that is GRI-aligned but filled with reasons for omissions is not conducive to strong relationships with stakeholders or building credibility and trust. Except for cases where it's absolutely necessary, we always advise clients to be as honest as possible with their reporting and avoid omissions whenever possible. Stakeholders don't expect perfection – they expect transparency and improvement year over year.
Provide clear and consistent data – As GRI states in its reporting principles, it's important to provide clear and consistent annual data. This ensures that organizations are reporting information that is correct and sufficiently detailed to allow an assessment of an organization's impact (especially for those in the investor/financial community), as well as comparable to help stakeholders accurately assess the organization's current impacts against its past impacts and peer group.
Work with a Certified Professional – Working with an experienced team of experts will not only help you navigate the complex world of sustainability reporting, but also help you grow and evolve year over year to meet and exceed your reporting goals and expectations from key stakeholders. When looking for a sustainability reporting team, it's important to find a team who will help you align with the most appropriate ESG frameworks that support your reporting goals and fit your priority stakeholder needs.
Is your organization prepared to align with the latest GRI Standards? Our certified team at FINN Partners is here to help. Contact us to hear about our capabilities and how we can support you on your reporting journey.