Media Relations(hips) in 2021: Insights Taken from Muck Rack's 'State of Journalism' Survey
April 29, 2021
In their highly anticipated State of Journalism study, Muck Rack this year surveyed more than 2,000 journalists working in online, broadcast, and print outlets. The insights they gathered should be extremely helpful to communications practitioners as they consider rethinking media strategies and creating stronger relationships with reporters. Key takeaways for better pitching – based on Muck Rack's and Cision's informative surveys of mostly U.S.-based journalists, as well as learnings applied from our own experiences, include:
Keep emails brief and use succinct subject lines. 91% of journalists prefer pitches under 200 words. As Taylor Swift would say, keep the "Long Story Short."
Use bullets to help organize the details!
Provide timing. Make clear if news is embargoed and be mindful of different time zones.
Provide necessary materials, including images and links. Make sure those links work!
If able to offer an interview with an academic subject matter expert (SME) or CEO, make that clear.
Pitch early, between 5am and 12pm EST. 57% of journalists also prefer being pitched on Mondays, followed by Tuesday (20%).
Follow-up within one week of your initial outreach.
Ask how you can best be a partner. Show up for each journalist.
Survey participants also elaborated on their preferred methods of communication, frequency of communication from PR practitioners, and the relationship between practitioner and journalist. Here, we share some of this intel and explore how we, as PR practitioners, can best adapt to ultimately get results.
Meeting Journalists Where They Are
One of the most common questions when connecting with a new media contact is, "how do you prefer to be reached?" Muck Rack reported 94% of journalists continue to prefer 1:1 emails and a whopping 66% dislike phone pitches. There is, of course, an added challenge to phone pitches now that most reporters are likely relying on their cell phones rather than office lines. Email pitching may result in more consistent connections with reporters, regardless of their physical location.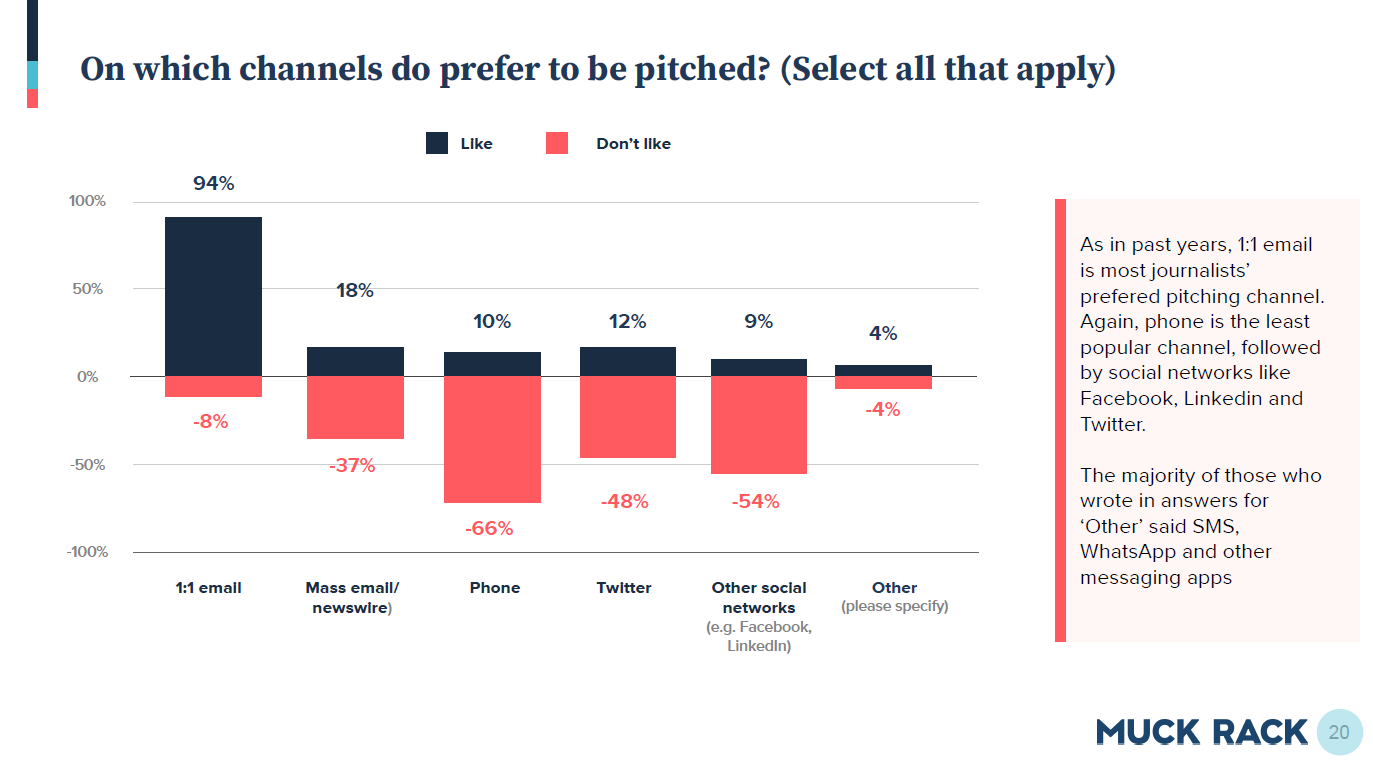 After the initial message to a reporter, a good practice is to leave some breathing room before following up, if time and circumstances allow. Half of journalists reported being okay with a follow-up 3-7 days after the initial email.
If you're offering an expert interview, keep in mind that the vast majority of journalists find academic SMEs and CEOs to be credible sources. To ensure success for your client and greater interest from reporters, take inventory of the sources you're offering. Are there any gaps to fill based on reporters' questions? Tap your ever-expanding networks to help reporters elevate their stories.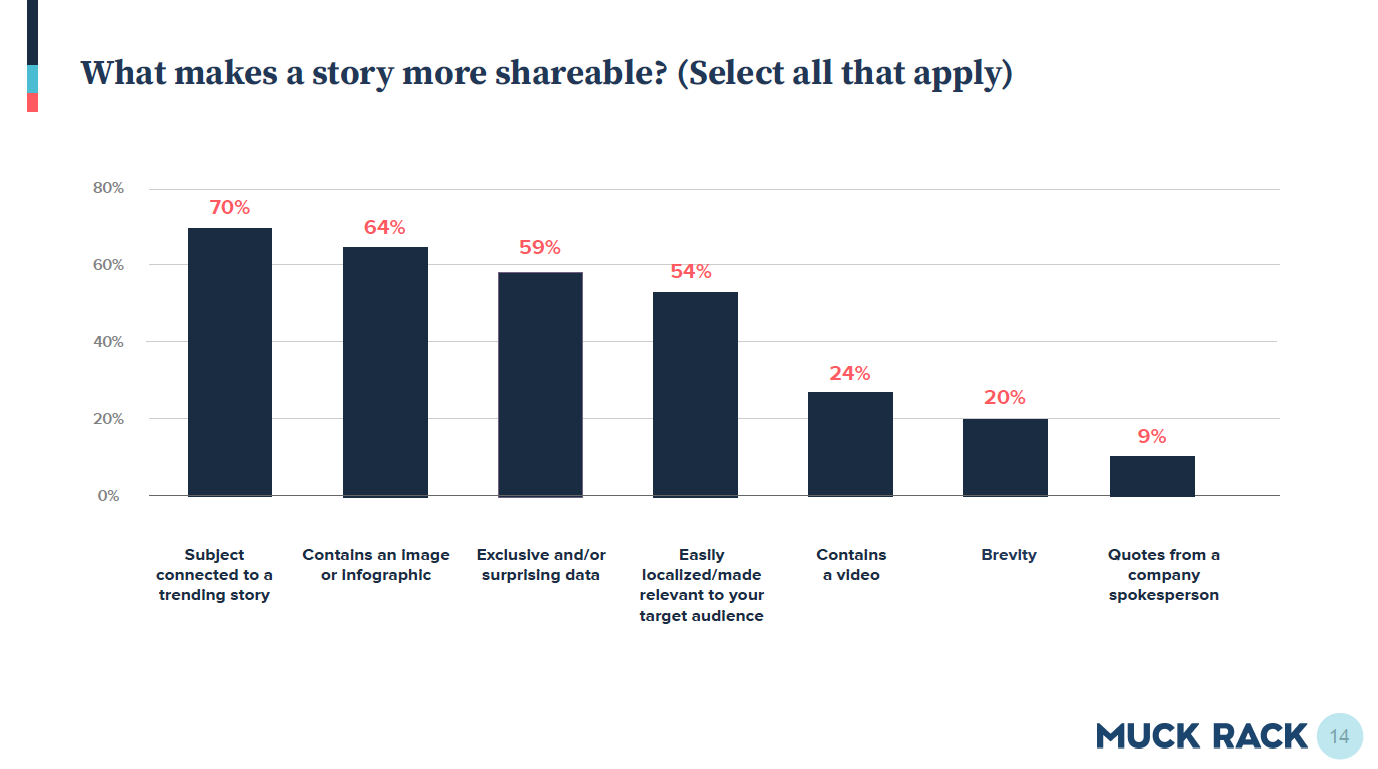 Supporting Journalists and Outlets in New Ways
Since 42% of respondents were either personally laid off or have had their workloads increased due to furloughs at their organizations, consider potential solutions that support busy journalists while advancing clients' stories. Work with editors to develop contributed content for local and trade publications with more targeted audiences. Other options could include paid opportunities, which may lead to future earned story ideas as well. For the first time, Muck Rack reported that more journalists (25%) immediately rejected otherwise relevant pitches due to bad timing rather than the lack of personalization (21%). Tailoring pitches will always be a key to success, but new sensitivities around downsized editorial teams play a role, too.
Looking Up
Nearly six in ten journalists (59%) describe their relationship with PR teams as mutually beneficial, but they don't necessarily view them as partnerships. It may be more difficult to develop genuine relationships from remote (and soon, perhaps hybrid) environments in which there are less opportunities to connect face-to-face and more opportunities to be interrupted by your dog when anyone walks past your home.
However, if anything about the evolving news cycle became evident during the pandemic, it is the importance of authentic connections and the value of public relations support; 61% of journalists said a quarter of their published stories originated from pitches. Looking at these insights through a health lens, imagine what we can do when we're truly connected with journalists as partners in a mission to communicate important information to providers, policymakers, product innovators, and patients and their caregivers.