A revolution in therapy or an online fad? Gen Z and Therapy apps
September 16, 2019
A 2018 study conducted for the American Psychological Association showed that Generation Z is the most likely of all generations to report experiencing poor mental health as well as most likely to seek help from a professional. These results can be interpreted in more than one way. On one hand, they might mean that mental health is declining and that this new generation is especially feeling the effects of societal worries such as gun violence, climate change, and a polarizing political climate. On the other hand, increased utilization of professional mental health services can be indicative of a decrease in the stigma surrounding the idea of seeking out such help. Gen Z's have fewer reservations about utilizing mental health services and approach their mental wellbeing in proactive ways. 
And like everything else these 22-year-olds and younger are up to, it makes sense that these services would start emerging on devices they are most familiar with. While telemedicine, where medical providers can offer care remotely, is an established sector of healthcare, apps such as BetterHelp, Talkspace, and 7 Cups are just a few of the new ways that one can have a conversation with a mental health professional all from the palm of their hand. Therapy apps, which are ways one can video chat or text a therapist to replace face-to-face appointments, are following a trend of other health and wellness related technologies that have had great success. Fitness trackers, calorie counters, and meditation apps are now almost commonplace on the average smartphone. With the health and digital worlds colliding, it makes sense that mental health treatment services are the next step.

August 1, 2018 – August 27, 2019 age trends by app
An analysis of 36,000 mentions over the last year shows that women drive 57% of the conversation about therapy apps. The conversation peaks for those between 19 to 24 years old. Apps 7 Cups and Moodpath are of particular interest to younger users, 13 to 18 years old, while popular app Talkspace is discussed primarily among millennials.
It is evident from the conversation that advocacy and de-stigmatization around mental health are important for those engaging with mental health therapy apps. Popular hashtags here include, #FightTheStigma, #mentalhealthmatters, #therapyworks, and posts during May for #mentalhealthawarenessmonth.
Another theme that emerges within the conversation is holistic wellness. Popular hashtags used include #mindfulness, #selfcare, #selflove, #mentalwellness, and #meditation — indicating interest beyond just treatment for mental illnesses into broader wellness trends.
Hashtags like #teletherapy and #telementalhealth are most often used by counseling centers announcing offerings of online therapy services.

Top hashtags among mental health therapy app conversation
Of five popular therapy apps, Betterhelp and Talkspace received the most mentions. Of the 12,000 mentions of BetterHelp in the past year, a total of 65% appear to be promotional – referring to posts about advertisements and discounts for the app, coming from either the brand's own channels or others. For Talkspace, 49% of the 11,500 posts are promotional.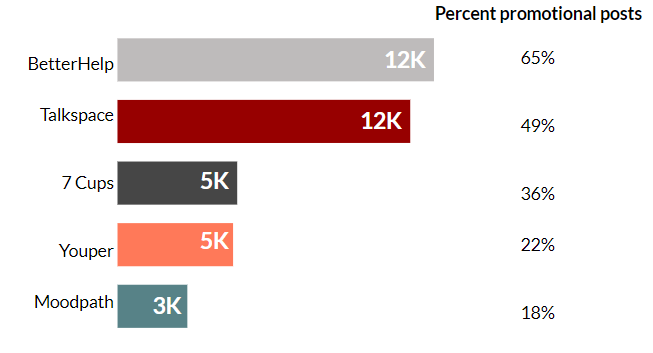 August 1, 2018 – August 27, 2019 online mentions across platforms 
And not all of the online attention was positive. Forty-three percent of posts about app BetterHelp had a negative sentiment.

Positive vs Negative post sentiment August 1, 2018 – August 27, 2019
During the past year, BetterHelp received negative attention online from those critiquing its use of social media influencers on Youtube to advertise their service. Youtubers are paid for each new subscription they bring to the service, and some feared this may have encouraged some misinformation to be spread about what the app can do compared to a face-to-face therapist, calling it a "therapy scam". It's worth noting that while the app claims to connect its users to licensed mental health professionals, they do not claim to make an official diagnosis nor do they prescribe medications through their app.

Are therapy apps then a convenient way to accommodate a growing population seeking mental health services — specifically one concerned with destigmatizing these services and focusing on holistic mental wellness? Do they offer a cost-effective alternative to those who do not have health insurance? Or do they run the risk of inappropriately replacing the vital face-to-face contact of traditional talk therapy?
ABOUT FINN RPM
FINN Partners' Research, Planning & Measurement team is the agency's research and intelligence group providing a full array of primary research and big data analysis instruments to inform creative platforms, plan marketing campaigns and measure effectiveness. To learn more click here.