3 Key Trends Will Define Travel Storytelling in 2021
February 2, 2021
COVID-19 has forced travelers, and the tourism industry at large, to pause and reflect on how we view and move around the world. Traveling freely — once taken for granted — now comprises more introspection, more appreciation and, quite frankly, a lot more work. As consumer motives for seeking new experiences, places and cultures shift, storytellers who influence vast numbers of people and consumer marketers alike must adapt their strategies for the new era of travel. 
In December 2020, Finn Partners conducted a global travel media survey to gather insights into the preferences, inspirations and barriers that will define future travel journalism. Drawing on feedback from approximately 400 travel writers and content creators from North America, Asia and Europe, the results provide travel brands with guidance for creative messaging and strong storylines. In distilling the survey data, FINN discovered three key story angles that will resonate with travel journalists and their audiences in the year ahead. 
Download the infographic highlighting FINN's survey results.
 1. Technology Joins the Vacation
The future is now, travelers. COVID-19 has fast-tracked travel tech at an impressive rate and scale. The past year brought a tidal wave of conceptual innovations that materialized and commercialized before our eyes: artificial intelligence (AI) crowd control, ultraviolet (UV) cleaning systems, robotic staff, biometric identification, contact tracing, smart luggage, and mobile and touchless options — just to name a few.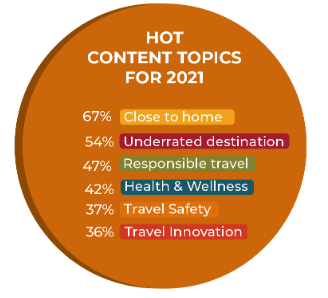 According to FINN's travel media survey, health and wellness (42%) and travel safety (37%) will be two priority editorial topics in 2021. As brands and destinations adopt new tech advancements, be ready to seize the media moment by focusing on why your tech is important for today's cautious traveler. And to build confidence and trust — which will be essential to travel recovery — focus your technology story around health and safety benefits and how they support the traveler's experience.
2. Broader Purpose, Better Vibes
As we begin to look beyond COVID-19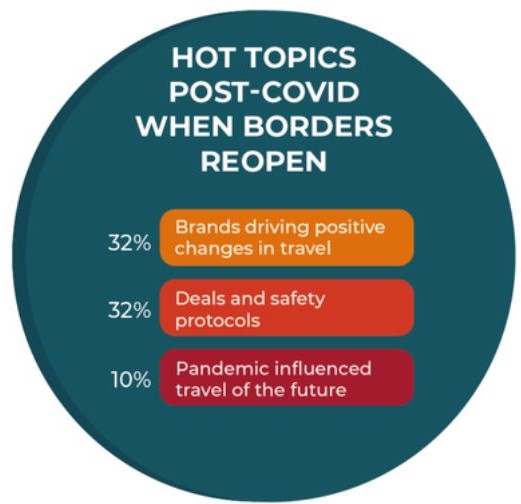 New restrictions, travel journalists want to experience and share the stories of brands and destinations that are supporting the future of travel in a more appreciative way. Key findings from FINN's travel media survey include: In 2021, 47% of media plan to report on responsible travel. After travel restrictions are lifted, brands driving positive changes in travel (through sustainability, accessible design, community benefit, etc.) will lead headlines. For many travel industry stakeholders, 2021 can (and probably should) be a powerful and pivotal chance to rebuild for a stronger, more stable, longevity-based tourism model. With social responsibility proving to be a priority for travel influencers, it will likely also be a vital guide for brands when plotting the recovery roadmap.
3. MVPs: Travel Managers, Advisors and Agents
If the pandemic has served anyone, it's the travel-planning professional — a previously unsung hero whose expertise is now considered mission-critical for both business and consumer clientele. The luxury of having an on-call travel expert who has your back 24/7 is now considered a necessity. 
For even the most seasoned and confident globetrotters, there's obvious value in having someone to mitigate the anxiety of potential cancellations, refunds and rebooking as well as stay abreast of perpetually changing rules, regulations and restrictions. In fact, Amadeus research from December 2020 found 40% of global travelers expect their travel agents to be on call to problem solve and provide recommendations. As 2021 travel is also trending toward longer trips to lesser-known locations — which require more coordination and deeper destination insights —travelers have yet another reason to work with a travel planner. 
Specific to business travel, COVID-19 has given travel managers a seat in the boardroom to provide guidance on how to restructure travel safety responsibly; they're now trusted C-suite advisors. A September 2020 Egencia survey showed that since the onset of coronavirus, 54% of travel managers now have "more engagement with executive leadership."
Over the past three months, we've seen a few early examples — canaries in the coal mine — indicating the powerful potential for travel brands to generate mass consumer exposure while expanding lucrative revenue streams:  
Amazon Explore

: Amazon is now working with well-established travel planners, like Intrepid Travel, to offer live virtual experiences. 

Discover The Palm Beaches | Advisor Incentive Program

: In partnership with Travelport reservation systems, this destination is offering agencies and advisors an additional 3% commission when booking Palm Beach County, Florida, hotels via Travelport. 
Coming out of 2020, there remains undeniable demand for travel, opportunities to recover, and reasons to have a cautiously optimistic outlook for 2021 — for brands, travelers and travel media alike. To see complete key findings from FINN's global travel media survey,