February 12, 2018
Two months ago, my dog died.  Not my real dog. Actually, a dog more real than a real dog, a kind of Platonic ideal of dogdom. Winston, Womble Carlyle's iconic brand symbol, was laid to rest with the merger of Womble Carlyle Sandridge & Rice and England's Bond Dickinson. I'd like to celebrate with them, but first, we need to sit shiva. (My wife is Jewish; I've learned some Yiddish.) I could be wrong. The firm suggests Winston has retired; that he is Of Counsel. That would be nice.
Winston was born in the mid-1990s. He appeared as the punchline in an ad series we created for Womble designed to position the firm as a southern superregional. Shortly afterward, the bulldog—it didn't have a name then—was used on an internal Client Service Award because he resembled the firm's managing partner at the time. It was a hoot; the lawyers loved it. A good joke. No one knew it, but at that moment, a brand was born. Diane Hartley, from JaffeAssociates, managed the account at the time, and her genius lifted Winston out of the ad to stardom. I confess I would not have had the courage to make a bulldog the icon for a law firm. Of course, this was eons before GEICO's gecko, but icons like this were hardly unknown in advertising.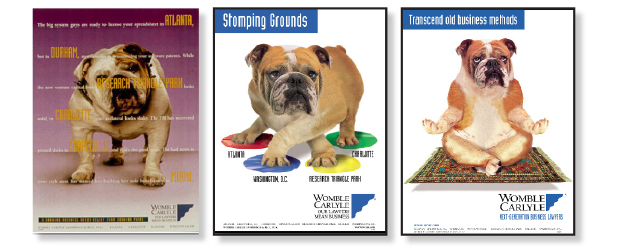 When the firm opened its Washington office, we introduced the bulldog, solo, playing Twister with no purpose other than to show the firm's reach. The headline read "Stomping Grounds." At this point, Photoshop was non-existent. To construct the dog's contorted legs, we worked with multiple overlays and spent countless hours getting everything just right. The ad showed up in many places but memorably as a diorama in airports throughout the south.  Returning after a long trip cross country, I was always delighted to have the bulldog greet me as I retrieved my luggage. The ad was such a huge success that we did others:
Winston on a magic carpet dollar bill with his tongue hanging out for the M&A group. "Deals That Fly."
Winston levitating off a carpet meditating urging viewers to "Transcend Old Business Methods" and use "Next Gen Lawyers"
Winston being "beamed up" in order to "Be Virtually Anywhere."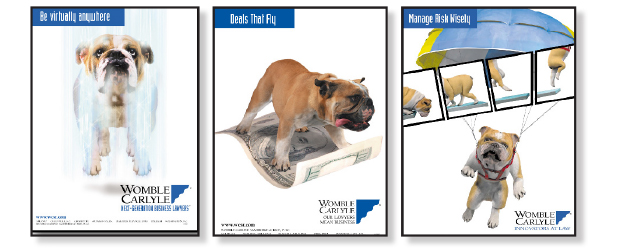 Diane wanted to launch on commercial radio and break the standard law firm dependence on the safety of NPR. So, we developed astonishing commercials created with a Baltimore copywriter. Winston became the spokesdog for Womble Carlyle. There are links to those radio spots here. Listen to them all. They are hysterical. Once, while getting my teeth cleaned, the hygienist repeated to me entire spots she had heard. I was stunned.
The dog was so successful he gained a name. We christened him Winston, for Winston-Salem, the firm's birthplace and Winston Churchill, famously called "The British Bulldog." Clients routinely offered suggestions as to what Winston should be doing next. Can you imagine a closer brand connection? .He was regularly featured in holiday cards. We even had an illustrator transform Winston into a very stylish cartoon sequence with a sleepy Winston on his back  captioned in one frame, "Rest your case."
There were many people within the firm who knew what they had in Winston. The recruiting team, surely. We created a brochure for recruits of portraits of partners with their dogs. It was an astonishing success, so infinitely charming because the formula was unbeatable—not lawyers, but human beings with the dogs they loved. I always marveled at the image on the cover of the brochure where the managing partner, John Garue, was dressed exactly like his dog (not that he realized it although I'll bet the dog did). No one today spends the kind of money we did on the photographer, the design, and the finished product because so few appreciate the value of a strong brand. Perhaps that's unfair. Perhaps we haven't done a good job of explaining even what a brand is.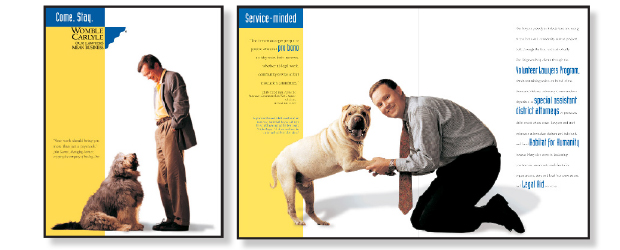 Winston also had his own tin, as any good English bulldog should. We created a biscuit tin with a gingerbread cookie shaped like a dog bone that we sent to clients and prospects, saying, "Just whistle."  The bone was wrapped in—well, let's call it wax paper—imprinted with quotes from years of client service interviews about the remarkable responsiveness of Womble lawyers.  Who better to deliver that message than the ever-ready for service, Winston?
Winston himself died several times over the course of his advertising career. The dog in the second photoshoot was not the same as the one in the first.
We had to find other dogs that had similar markings and, as you would expect, consistently went back to the same breeder. But the brevity of a dog's life led us to consider new directions for the campaign and the dog. We couldn't have our star keep dying on us like Rin Tin Tin, so we commissioned a CG group in Boston to render Winston. This allowed us to do anything we wanted with him once the wireframe was done to our satisfaction.  Winston would run to the end of diving board, jump off, then parachute softly out of the frame. These particular ads were used in elevators. Captivate had the monopoly at the time on elevator advertising (which you seldom see these days).  These ads were deliberately placed in the high-rise towers of competitors who must have seethed on the long ride up seeing their competitor who did not even have an office in the building. 

The pressure to continue to innovate with the symbol was intense. We created Manga ads—you know the Japanese comic craze? The CG illustration stills gave us greater freedom to try new directions. Of course, not all the ads were home runs. We singled a lot and struck out some, too. But we always kept pushing the…er …cage? This was how Pinocchio became a real boy. This was how Winston became a real dog.
Somewhere in the middle of all this, Womble understood the power of its brand. The firm refused to merge with a well-known Florida firm because the marriage partners insisted they drop "the dog." They were able to open an office in Columbia, SC with astonishingly high name recognition, something law firms just cannot achieve easily, if ever. Competitors, who were also our clients in Columbia, would exclaim, "That damned dog!" But then, somewhere at the end of all this, like Puff the Magic Dragon, Winston died. New managing partners took office who, well, the coup de grace? "We've decided to go in another direction." Yow!
It happens. Nothing is forever. I wish the law firm well. We worked together for such a long time. But it's a sad day for me.  My dog died. I have a half-finished bottle of Jack in front of me. Get a glass yourself.  Raise a toast to Diane Hartley—a genius and a delight. Raise a glass to the Womble lawyers who understood the power of a brand and gave it such a long life. No "Huzzah!" Keep your sabers sheathed.  Just a rousing "Woof! Woof!"  Again. "Woof!  Woof!"
You May Also Like