August 9, 2018
One of the positives of being a workforce veteran is guiding college students and young professionals as they think through their careers. I serve on the Board of Trustees of my alma mater Trinity Washington University and helped to start the mentorship program for David Rubenstein Scholars of the Economic Club of Washington, DC. This has allowed me the chance to meet incredible individuals who are hungry for guidance and may be seeking a trusted person with whom they can speak about the challenges they are facing.
Mentoring is something I consider both a privilege and a joy. Honesty is a critically important part of mentorship. Also, it's a true collaboration and two-way street. Trust between mentor and mentee, along with respectful candor are key.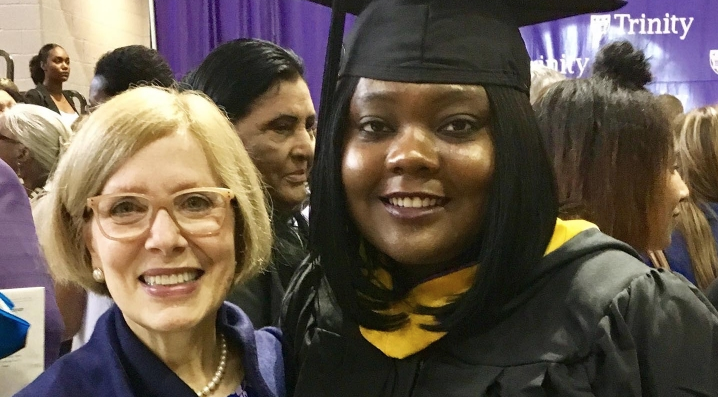 I recently participated in a public speaking challenge with young scholarship recipients, most of whom are rising college seniors. I didn't count each time empty words such as "like," "you know," "stuff like that," "um," among others were used or how many times sentences started with "so," but excessive would be an understatement.  Colleagues who've taken drama classes describe these as "vocal and subvocal pauses" to be avoided and smile about how much money it cost them since their professors required them to put change into the till each time they erred.
It's not fair, but I find with each use of "like" and "so," I take the speaker less seriously. Further undermining his or her credibility is the addition of "right" – a verbal pause - at the end of a sentence.  "I am thinking about applying for a position at a think tank. Right?" or "The book you recommended was helpful. Right?" And when did turning every declarative sentence into a question become the norm, with a slight rise in the speaker's voice as the sentence trails off?
What I gently tell my mentees is to stop it, now. These are habits that need breaking, like chewing and cracking gum in public and clipping fingernails on an airplane (yes, I've witnessed it). If you want to be taken more seriously by those who make decisions about whom to hire and whether a promotion is in order, rid your sentence structure of spoken pauses. Consider setting aside a quarter each time you catch yourself saying "so" or "you know" and while in the short term you'll have enough to buy daily lattes for six months, you'll eventually break the habit and just maybe secure that job and/or promotion with greater ease. Right?
Posted By
You May Also Like