January 9, 2019
We've been following what the top 50 influencers at CES have been talking about, and so far devices are still the major driving force. With an ever-increasing expansion of ideas-based technologies and areas such as digital health, connected cities, and families/children gaining an increasing share of the convention, gadgets are still grabbing the majority of attention. Other than overall CES mentions, mobile, TV, and devices occupy 3 of the top 5 most mentioned terms among top influencers. It seems that even as technology is spreading into everything, and smart technology is embedding in everything from bathtubs to trash cans, devices still rule the roost.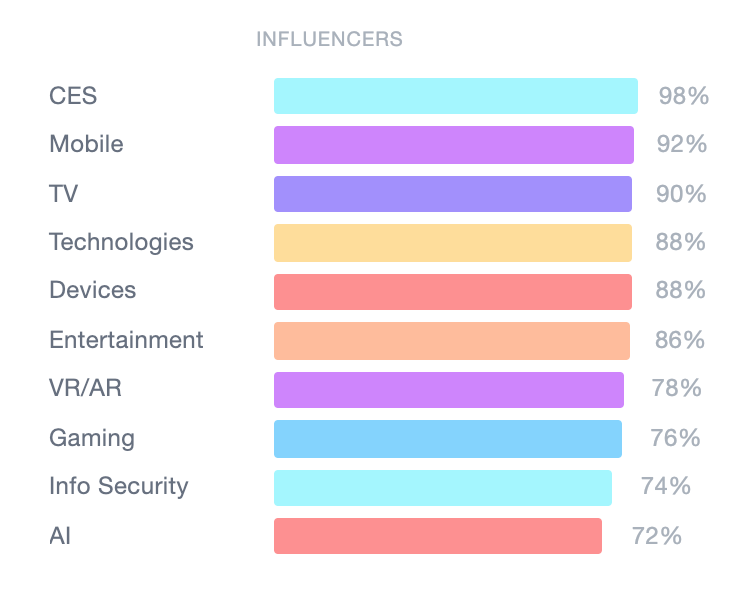 Much of this is driven by the media presence at CES, and the presence of top media such as Digital Trends and CNET among our top influencers. The product announcements still generate attention and coverage, and that translates into what the influencers are talking about. As increasing pressure on ROI continues to become a focal point for every company attending CES, big or small, the question becomes what does success look like. There will never be a need for every single company to generate coverage and volume of mentions, but it also shows that creative approaches to working with influencers is likely still an underexploited facet of corporate involvement at CES.
Posted By
You May Also Like
Contact
Us
At Finn Partners, we are pleased to provide this quick and easy way to contact our experts. Please complete the form below and Matt Bostrom or Barry Reicherter from Finn Partners will contact you to schedule a time to discuss any of your questions, our methodology or what we've learned. If you would rather speak to someone in person, please call Matt Bostrom at +1 (650) 684-8959 or Barry Reicherter at +1 (703) 829-7513.