October 6, 2017
I recently attended INBOUND 2017, an innovative conference hosted by HubSpot, that addresses the latest trends across every facet of marketing and sales.
As a digital analyst, my clients frequently ask me how to use and engage audiences on forums, blogs and through social video. Therefore, I made it a point to attend lectures on Reddit, the Medium blog, and social video.
Reddit: When I research digital landscapes for clients, Reddit is usually one of the top sources of content on almost any topic. It is one of the most popular forums in the digital space and a goldmine for marketers. Reddit users constantly self-segment themselves, commenting on posts, and upvoting or downvoting content. It is so relevant that news agencies frequently run content on viral stories from Reddit posts. Few other forums and social media channels cover such a variety of topics while providing a high volume of opinions. However, it can be difficult to navigate, especially its search functionality. At Inbound, I learned that best way to mine for insights on Reddit is to spend several weeks experimenting with subreddits and to search for insights by author, companies, and relevance.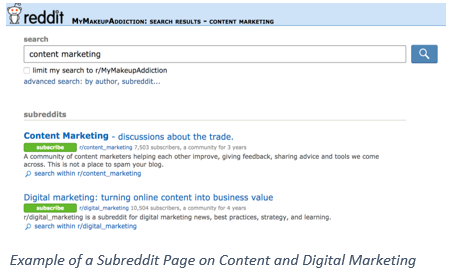 Medium: HubSpot used itself as a case study and shared how they struggled to build an audience in Medium, despite having a successful blog inside their own site. Medium is a disruptive blog because it offers free publishing for brands, guides interested readers to products and companies, and provides comprehensive analytics.  HubSpot found that the best way to building an audience in an off-site blog is to:

Tag people and companies discussed in posts. Tagging engages the tagged party and creates an opportunity for dialogue.

Don't make users think. Highlight and emphasize interesting quotes from articles to attract readers.  

Be visual; don't be boring. Supplement articles with visual content such as images and videos to engage and delight viewers.                                                                                                                                                                                                                                                                                                
Social Video: Even though Facebook is an anchor social platform, launching successful brand videos is challenging. Video on Facebook differs from video on YouTube in one big way—the quick fix factor. Unlike YouTube, where users spend time, Facebook viewers use it to quickly distract themselves. Just as social posts need to be customized to each specific platform, video content needs to vary by platform as well. This applies to other social channels, such as Snapchat.
These takeaways were key learnings about creating engaging social content and building a following. After four days of inspiring keynotes and focused breakout sessions on subjects like search engine optimization (SEO), marketing automation and social media, I departed Boston with two notebooks full of detailed processes, tips, and takeaways and what feels like endless inspiration and motivation to apply what I have learned to take our client work to the next level.
Here are links to the other posts in our INBOUND series:
Making Storytelling Memorable by Nadia Rahman
How to Win Digital Marketing by Vardanush Ghazaryan
You can also see a picture of me and my team at Inbound on Twitter. While you're there, follow us @FinnPartners.
Posted By
You May Also Like