Which Media Days Brands Won Big at CES 2019?
January 10, 2019
The biggest vendors at CES spend countless hours and dollars (though I'm sure they're counting) on their presence and announcements at CES. One goal is to attract the attention of partners and suppliers, and another is to create an improved brand halo, but it's still important that the big announcements generate attention in the media and online. We looked across digital conversations at the brands hosting media days at CES, and the conversations they generated are somewhat surprising.
Intel, with their massive booth right at the entrance to the South Hall, was clearly a standout brand. They are undoubtedly helped in this by their involvement in so many diverse areas of tech. A quick glance at the conversations immediately reveals pickup for everything from autonomous vehicles to laptops to AI. As I said to Barry as we walked through, "it's almost as if Intel said, 'you know all that stuff you're seeing all over CES? We pretty much do all of that.'" And it shows in their ability to drive discussion of the brand. Their use of an in-booth panel discussion stage was also a smart move and helped drive discussion.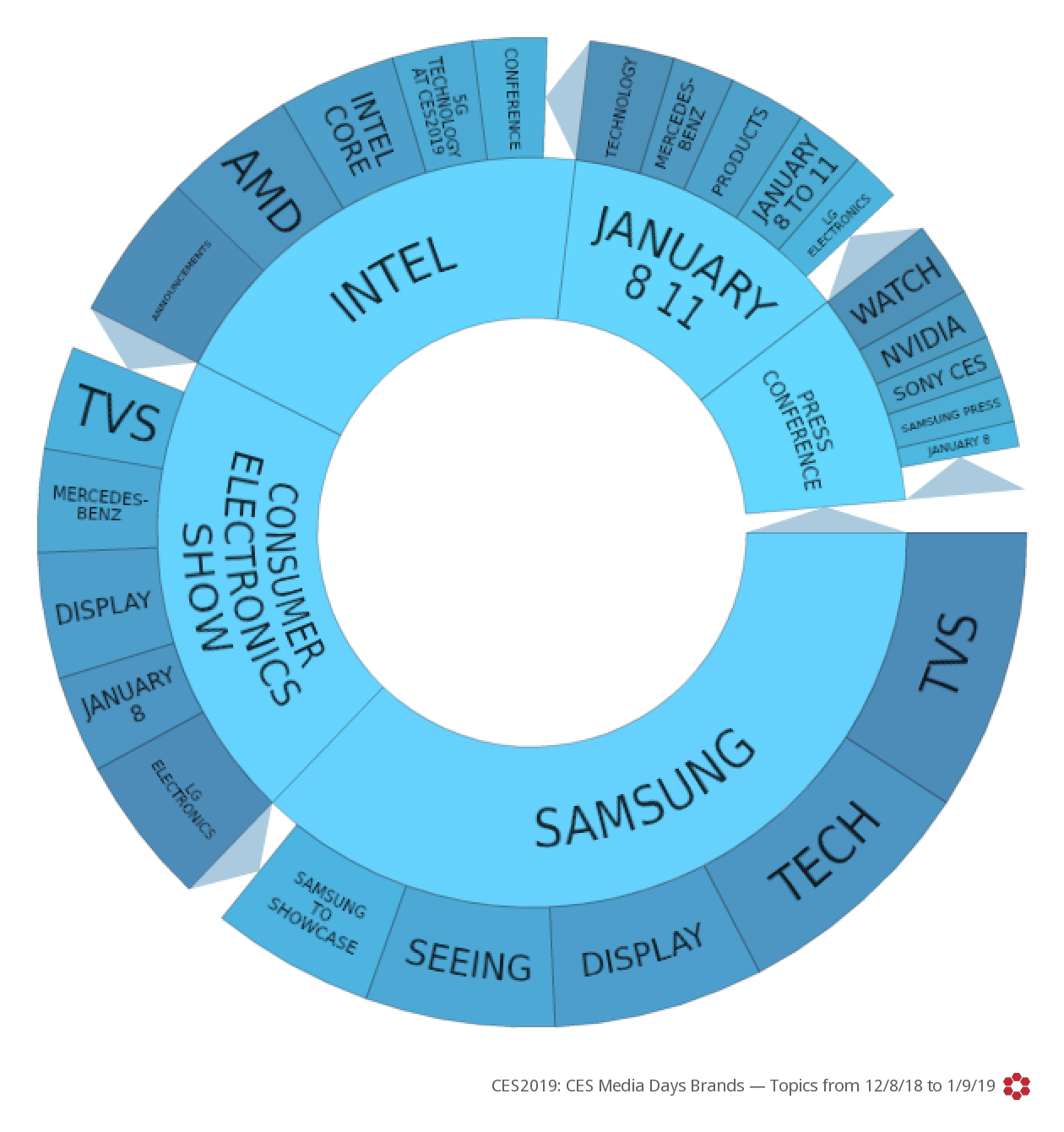 Samsung also generated a large volume of discussion around their new sets and Google Assistant integration. Not very shocking, we expected Samsung to be a big player at CES 2019.
Probably the most suprising part of this analysis is the significant, but smaller portion of the discussion generated by LG. Their rollable OLED TV was clearly the in-person buzz king of the show. Basically everyone we ran into wanted to know if we'd seen it. But that did not result in the volume of discussion seen among other top brands. And that even takes into account that LG saw pickup for laptops and phones as well.
As we discussed in other posts, the media is still the main driver around search and social at CES. That means hosting media days will continue to be a major focus for the household brand names at CES. As these companies look to maximize their media days at next year's show, they will definitely be looking at each other to see what worked and didn't.