The Real Winners of Super Bowl LIV
February 11, 2020
The Kansas City Chiefs defeated the San Francisco 49ers in Super Bowl LIV this past Sunday. Were there any other winners? For years, the thrilling football game itself hasn't been the only thing keeping viewers at home on the edge of their seats. Like many Super Bowls before, SuperBowl LIV was closely monitored by the marketing & advertisement community to watch the fierce competition among sixty brand players fighting to claim the coveted prize of Best SuperBowl commercial. How well did these commercials perform? And how much buzz have they created for their respective brands?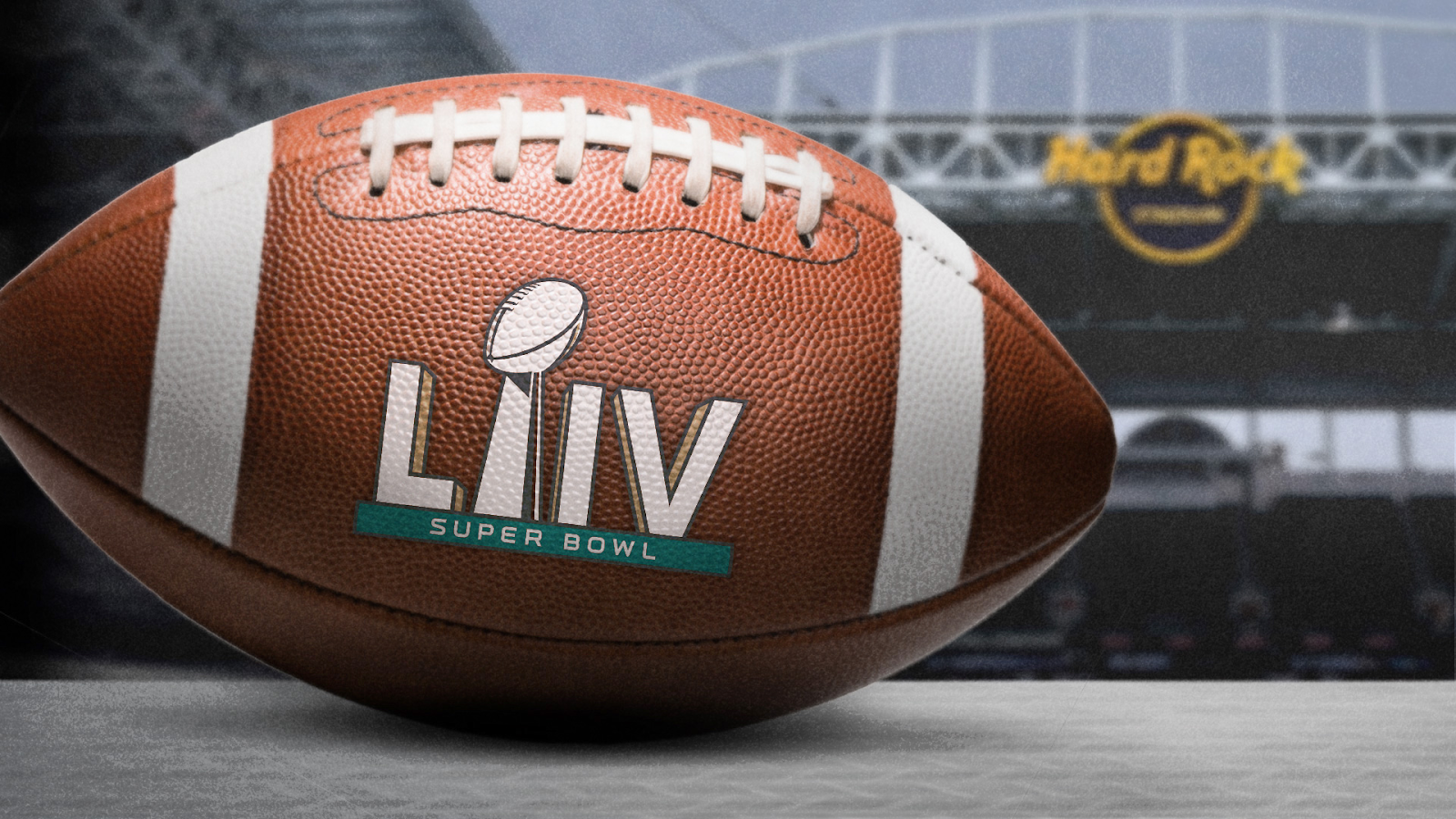 (picture source: sporting news)
USA Today Super Bowl Ad Meter ranked Top 10 commercials by audience rating; AdAge did real-time ads review by their editors and also collaborated with iSpot.TV to rank the top 10 commercials by their digital impressions and views. Here are some consistent winner brands on these lists: Jeep ("Groundhog Day"), Hyundai ("Smaht Pahk"), Google Assistant ("Loretta"), Doritos ("Cool Ranch"), Rocket Mortgage ("Comfortable at Home") , Microsoft ("Be The One") and Olay ("Make Space for Women"). Our team is interested in what people discuss when talking about Super Bowl 2020 commercials, as well as how much of a difference the Super Bowl commercials have made on each of these winning brands in terms of their digital share of voice.
LET'S TALK ABOUT COMMERCIALS
To start, we looked at the overall online conversation across all public social channels around Super Bowl 2020 commercials. We set the timeline to Jan 28th – Feb 4th, as it included the build-up of the day and the day after. To make sure the data was as clean as possible, we exclude data from political advertisements. Overall, there are around 861k total digital posts on Super Bowl 2020 commercials.

Once we took out the basic hashtags people were using for the Super Bowl, a lot of commercial-specific hashtags created and shared by audiences stood out. #CoolRanchDance from Doritos, #PostyStore and #PostyBar from the BudLight and BudLight Seltzer, as well as #MakeSpaceForWomen from Olay were all on the top lists. Other hashtags include #JeepGroundhogDay, #BeforeAlexa, #HowIHummus and many more.

The Google Assistant commercial "Loretta" was voted the number three ad by general audiences on USA Today's Super Bowl Ad Meter, and many of the audience mentioned the commercial had them in tears – which was demonstrated further by this emoji analysis used in the discussion: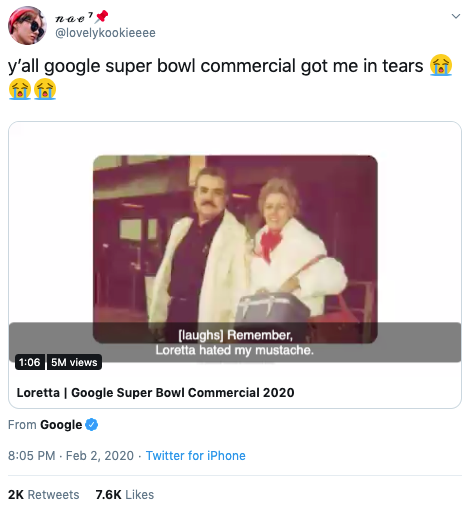 There's also some sarcastic sentiment around Super Bowl commercials in general. One post claiming that "u can tell how evil a company is by how touching their super bowl ad attempts to be" made one of the most engaging discussions on the overall Super Bowl commercial topic:


However, the major sentiment around these commercials is positive.
HERE'S ALSO SOME CONTROVERSIAL TOPICS 
Drag queen's Kim Chi and Miz Cracker's appearance in Sabra Hummus' commercial sparked polarized political discussion, with one side celebrating the cultural openness and the other criticizing the TV channel and NFL not being truly "open" to some conservative beliefs.

Feminism and female empowerment was another hot topic for this year's Super Bowl commercial. Although some considered Shakira and Jennifer Lopez's halftime performance a showcase for female empowerment, others argued that it was merely gaudy content for men. Such viewers preferred the feminist messages portrayed in some commercials, such as Olay's "Make Space for Women" and Microsoft "Be The One".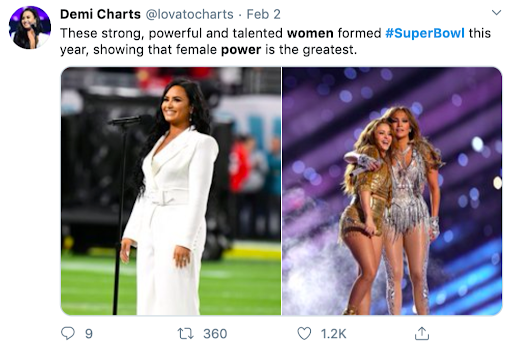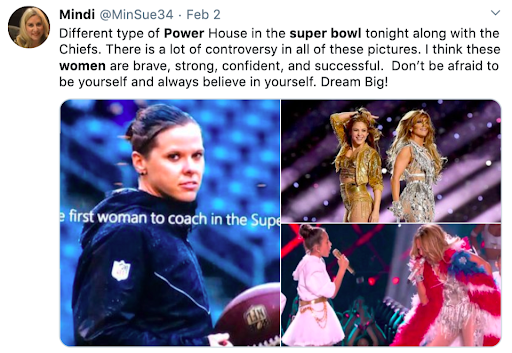 These conflicting viewpoints show that female empowerment and feminist issues remain controversial topics, but also that such issues can gain real traction for brands and entertainers.
DON'T FORGET THE $$$ IN SPEND 
Super Bowl commercials have always been a big deal for brands, considering how much money it costs per 30 seconds for a TV spot (over $5 million). This cost may be of a bigger deal for some brands than others, both in terms of the investment and returns. While we can't say whether an advertisement was a success based on digital engagement metrics, this data can be a good measurement of whether a company made a splash with its commercial.
Google Assistant's commercial "Loretta" presumably helped the brand/product to have gained more than 300% of increase in digital brand mentions over the past week, with the peak happened on the following Monday.

 Rocket Mortgage gained a generous 213% digital brand mention increase, thanks to the humourous Jason Momoa "Comfortable at Home" commercial.

 People loved the "Cool Ranch" dance presented by Doritos. And the brand has witnessed a 138% increase on brand mentions in the past few days.

"Groundhog Day" by Jeep, rated as No. 1 on USA Today Super Bowl Ad Meter, has helped the brand earn a vast amount of digital mentions on the day of Super Bowl (180k mentions that day vs. 30~40k mentions on the days prior to the game) and an 87% increase over the week. One of the highest trending posts came from the brand itself, with many audiences replied with the sentiment that "it's the best Super Bowl ad".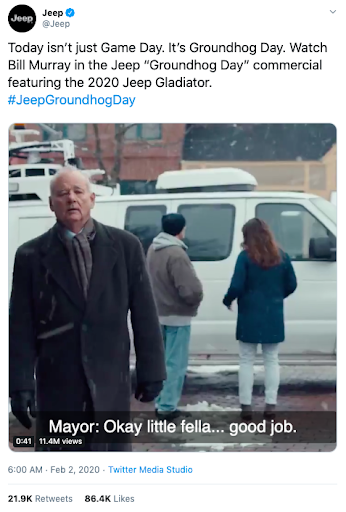 Hyundai generously spent on two commercials: "Smaht Pahk" and "Going Away Party". Although the former is better rated than the latter, both commercials helped the brand muster a solid 50% increase in digital brand mentions over the week.

Microsoft's "Be The One" was also one of the Top 10 well rated commercials by various standards. Although the ad itself is very well-made, well-liked, and inspiring, it does not seem to have particularly contributed drastically to the overall digital mentions of Microsoft, as some other commercials did with their brands. This could be partially due to the fact that the commercial focuses on general branding versus promoting certain Microsoft products. Given how well-known the Microsoft brand is, this result did not come across very surprising for us.

Mountain Dew's commercial only nudged the brand to a mild 3.6% increase in brand mentions.

"Make Space for Women" by Olay made a huge difference for the brand mentions – marking a nearly 890% increase. This could partially be credited to the well-made commercial that empowers women; partially it could be credited to Olay's social campaign that "Olay plans to donate one dollar (up to $500,000) to the nonprofit @GirlsWhoCode each time someone uses the hashtag #MakeSpaceforWomen on Twitter"; and partially due to the small base of the total digital brand mention volume.

CONCLUSION
Like the game itself, Super Bowl commercials produce winners and losers. Some brands successfully allied themselves with a cause, started a discussion, or commenced a big conversation about their products or brands. Others paid a big price for a minimal engagement bump. Will the "shareability" of today's advertising live long beyond the event? And will brands continue to be willing to shell out large sums to get a coveted 30 second Super Bowl spot? 

Only follow up analysis would tell.

*This blog is co-developed with Barry Reicherter, Global head of Research, Planning, and Measurement (RPM) team of Finn Partners

ABOUT FINN RPM
FINN Partners' Research, Planning & Measurement team is the agency's research and intelligence group providing a full array of primary research and big data analysis instruments to inform creative platforms, plan marketing campaigns and measure effectiveness. To learn more, email rpm@finnpartners.com.