Let's Be Social: Key Takeaways from FINN's Inaugural Global Health Social Media Summit
March 29, 2023
When you think of social media, does it evoke feelings of excitement and potential for growth, or apprehension and uncertainty regarding the outcome? Perhaps it sparks a combination of all these feelings. As public relations professionals, it is our responsibility to counsel our clients, guiding them through the ever-changing social media ecosystem to keep those uncomfortable feelings at bay and make certain their presence is strategically optimized, compliant, and authentic in its creative approach.
The health industry can leverage social media, when executed in an effective and thoughtful manner, as a tool to amplify awareness of a company's mission, drive greater understanding of treatment benefits, build a supportive community across disease states, and better connect patients with a care team that could change their lives.
At FINN Partners, we are committed to amplifying the power of social media, educating our colleagues and clients and empowering them to leverage these platforms to drive measurable results. To meet those needs, FINN's Global Health Social Media Group recently hosted the company's inaugural Global Health Social Media Summit for our internal team. The Summit featured two days of engaging presentations and panel discussions that took our colleagues through best practices and strategic recommendations for channel and content development; shared insights into building influencer relationships, metrics reports and paid campaigns; highlighted ways to complement traditional + social media efforts; illuminated the importance of corporate and executive thought leadership activations; and concluded with an important discussion about crisis management. 
As we discussed these tactics and strategies, several themes rang true:
1. Social media is a news engine. Both professional and consumer target audiences use social media platforms (especially YouTube) as tools to receive news and research findings, discover authoritative content, and identify credible health information. Be sure to keep this in mind as you consider SEO strategies and both organic and paid content to ensure messages are disseminated to target audiences that will find it useful. 
2. Authentic voice directly correlates to increased trust and credibility. Authenticity, relatability and humanity are critical when leveraging social media to amplify a corporate narrative, treatment message, or executive thought leadership perspective. These three qualities must be kept top of mind when developing every element of a campaign, including key messages, creative assets, and the placement and targeting of ads.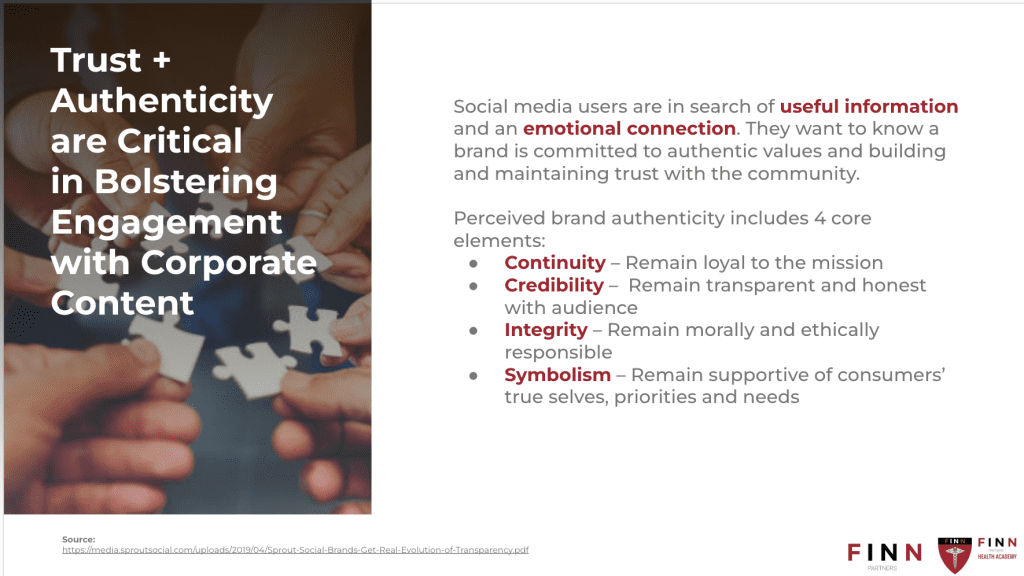 3. Integrate social media and media relations strategies to maximize results. The days of these two specialties living separately are long gone. Instead, use complementary approaches across mediums. For example, leverage social media to build a two-way conversation around media efforts and foster engaging relationships with reporters. Additionally, consider deploying social listening efforts to inform story ideas. Ensuring that these elements are complementary helps build brand trust and efficiently maximizes efforts.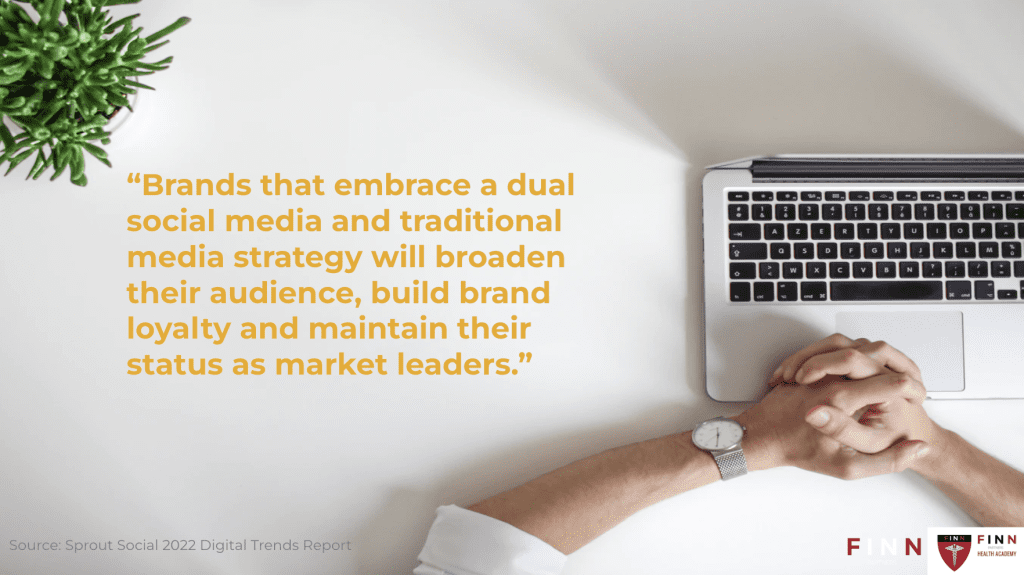 4. "Informational Social Influence" should be the main consideration when pursuing partnerships with influential individuals. Partnering with the right influencer can help drive credibility among health and disease communities and allow companies to expand reach to new markets. Be sure to thoroughly audit the online presence of these individuals prior to embarking on a partnership to ensure their history and values align with the brand's mission.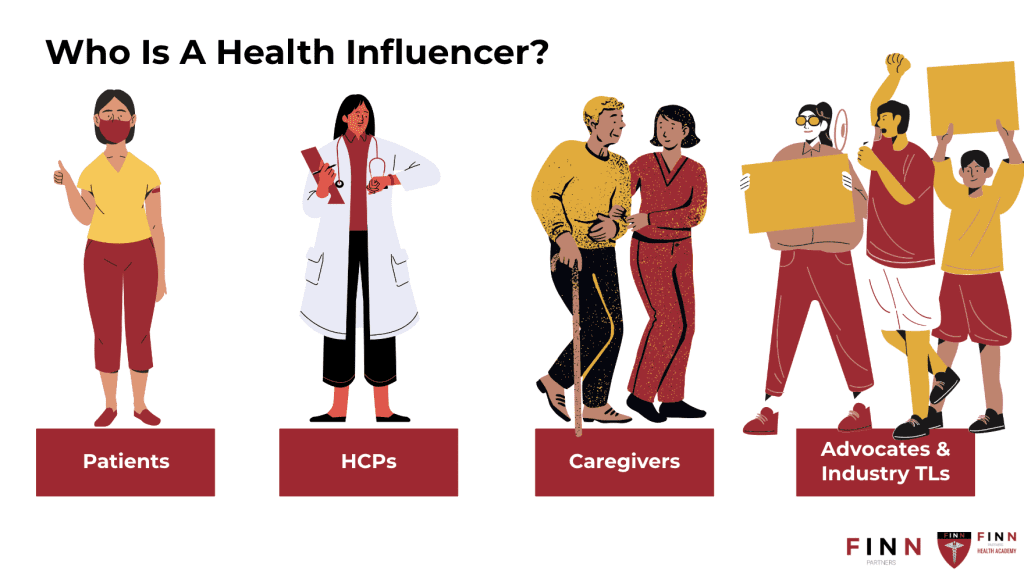 5. Executive thought leadership efforts directly impact the perception of a company. The COVID-19 pandemic and virtual environment not only caused a shift in mindset, socialization, and work style, but also a change in social media behaviors and expectations. It has become increasingly important for executives and KOLs to publish owned content in their authentic voice (remember takeaway number two!) to foster relatability and credibility among audiences. Employees and executives, in particular, are the most credible ambassadors for a company, so enlist these thought leaders in publishing owned messages that support the corporate narrative.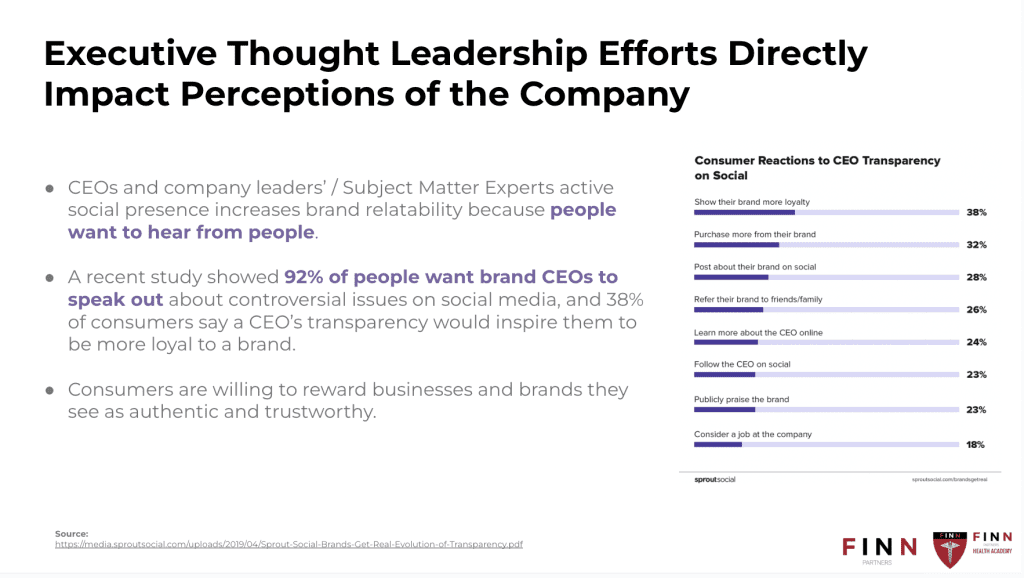 The Global Health Social Media Summit will become an annual event at FINN Partners as we work to ensure our colleagues and, subsequently, our clients, have a full understanding of the latest and greatest platform insights and strategic approaches. We are better together, and we believe that this collaborative, global approach will make certain our network of partners puts their best thumbs forward across social media platforms.