How podcasts attract new audiences during the pandemic
September 24, 2020
The pandemic has changed every aspect of the way we communicate—narrowing and expanding channels as the weeks and months in quarantine slog on. Such is certainly the case with podcasts.
With many people eliminating their commutes to work and skipping the gym—two popular places for podcast listening—podcasts initially saw their audiences dwindle when COVID-19 descended. But the number of podcast listeners has recently bounced back to pre-COVID levels, and devotees of this content-rich platform are demonstrating that they're hungry for new shows.
In late July, Spotify announced a modest increase in the number of podcast listeners on its platform, yet the amount of content they're listening to more than doubled. A recent Edison Research survey found that throughout the second quarter in 2020, weekly podcast listeners on average consumed up to 6 hours and 45 minutes of podcast content per week. That's about a half-hour increase over the previous quarter. Edison Research also reports podcasts now reach nearly 100 million Americans every month. Simply put, the audience for podcasts is growing and more engaged than ever.
Finding your audience
The well-crafted podcast does something that many other forms of communication cannot: It builds trust and rapport between storyteller and audience. For communications professionals, there is nothing better than delivering your message right into your listeners' ears. But what exactly do they want to hear?
According to Edison Research, 74% of podcast users tune into podcasts to learn something new. Among the most popular podcast genres are comedy, news, politics, science, arts, sports, and business. Listeners are also demanding freshness and relevance. Nearly two-thirds of podcast listeners say they would listen to even more podcasts if the shows were about topics that interested them.
Any company or person can start a podcast. With more than a million podcasts currently available, many have. So how can you create a show that reaches the right people and helps achieve your communications goals? You need two ingredients: a clear understanding of your potential audience and scintillating content.
Recently, Vanderbilt University Medical Center (VUMC) decided to expand its national thought leadership and showcase its leading experts and lifechanging medical discoveries in order to solidify its reputation for scientific and clinical innovation. A podcast seemed the ideal platform to connect with intellectually curious listeners who crave cutting-edge information they can trust. In July, the Vanderbilt Health DNA: Discoveries in Action podcast launched. The show takes the listener deep into the world of health care through conversations with more than 30 pioneers who are pushing boundaries and setting the stage for the next generation of medicine. Topics range from unconscious bias to neurosurgery, and episodes are designed to lure the casual listener (no Ph.D.'s required!).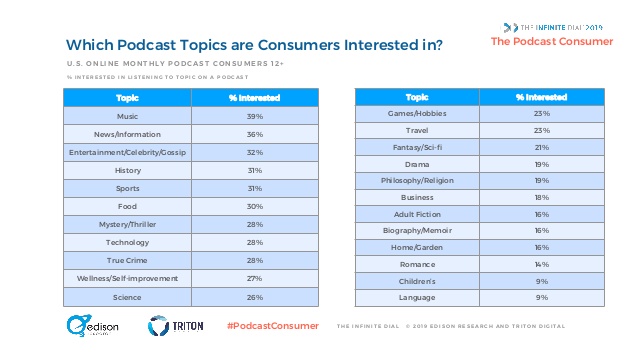 (Image via Edison Research)
Episodic storytelling
Once you've landed on the most compelling thing to say, you must figure out how to say it. In the case of VUMC, in partnership with FINN Partners and the podcast production firm Relationary Marketing, it decided to produce a series of standalone podcast episodes rather than one continuous story. This would give its listeners the opportunity to jump into the series at any point. A listener might tune in for the latest information about vaccines (episode 2) and then move to the science behind imposter syndrome (episode 5).
What listener experience do you, or you and your client, want to provide and why? Do you want to tell the history of your brand (which might lend itself to a continuous story) or do you want to tackle a range of issues (which might warrant stand-alone episodes)? Whatever your objective, make sure it is not directly tied to sales or promotion.
Podcast listeners crave new and relevant information that transports them out of their current—likely COVID-saturated—environment into a more exciting and interesting place. They can smell an advertorial a mile away and will reject any content that smacks of a hard sell. So carefully consider your podcast's goals and make sure those goals rise above the transactional; and incorporate into your planning internal or external experts in content, format and design to propel you toward achieving those goals.
After you record
It takes a considerable amount of time and effort to create a podcast, and recording the show is just the beginning. There are many wonderful podcasts available that no one has ever heard. So how do you give your content the best shot at reaching the right ears?
Partnering with a distribution service like Libsyn can help make sure your show ends up on all prominent podcast platforms like Apple Podcasts and Stitcher, but you'll need to develop a robust marketing plan to help your listeners find you. In the case of VUMC's podcast, episode-specific marketing plans are helping grow an audience quickly. Because episodes cover different topics, each one has its own potential audience and deserves a marketing plan to go with it.
When creating marketing plans, consider all aspects of how people find new shows. Social media, earned media, advertising and influencer engagement are important for spreading the word. Don't forget that the guests on your show can be great ambassadors. They likely have existing platforms to leverage, and a podcast that features their perspective and insights will be interesting to their audiences. Make them an integral piece of your marketing plan.
Organizations and brands entering into the podcast realm must offer content that fascinates, taking listeners to places they never thought to go. The branded podcasts that achieve this will earn more than high rankings on podcast lists. They will earn entrenched audience respect and loyalty.
Hope Buckner and Rebecca Warren are members of the health group at FINN Partners Southeast.