HIMSSANITY Has Started Already
February 5, 2019
Once again, FINN's presence will be in full force at next week's HIMSS conference, which takes place February 11-15th in Orlando, Florida. HIMSS is the premier health technology conference, drawing more than 40,000 attendees spanning the largest players in health to entrepreneurial startups. Stay tuned right here and on FINN's Twitter and LinkedIn for daily FINN Fact video blogs hosted by #1 digital health influencer and FORBES contributor, John Nosta. We're excited to feature a lineup of interviews with some of world's leading health tech companies and innovators.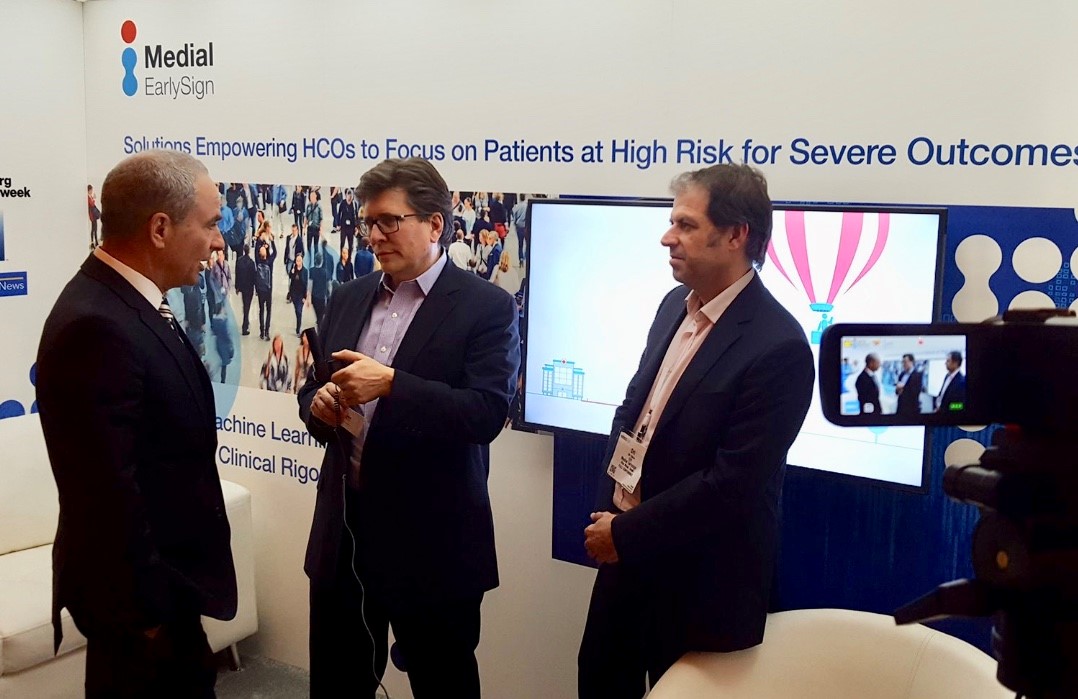 John Nosta interviews Medial EarlySign at HIMSS18.
To help get us ready for HIMSSANITY, John Nosta shared his outlook for some of the hot topics that he expects to emerge from the conference. Here's his list:
Data
It will come as no surprise that data plays a central role at HIMSS and in clinical medicine. The translation of data into key clinical insights will advance again this year to become a key driver of innovation. While devices always grab attention, it's the data over the device that will emerge as the game changer. But data will also have its controversy. The acquisition and use of data will be complicated by the fundamental question of data ownership and security. Don't expect solutions yet, but the emerging questions and controversies will make things interesting.
Analytics and the tease of AI
I wouldn't be surprised to see a cappuccino machine powered by artificial intelligence at HIMSS. At least that will be the claim! The translation of data to actionable insights will be a major theme. The use of machine learning, algorithms, and artificial intelligence will be bantered about as companies seek to add the panache of AI to their technology. However, we may still be on the top of the Gartner Hype Cycle for many examples.
The theory to practice
Outcomes, as also in clinical medicine, will play a central role as validation becomes the next step in health tech. Bells and whistles are fine, but clinical and financial concerns will become a 'gate keeper' for what moves forward out of the lab and over to the bedside.
From the top down
It seems like big changes come from big companies. From Apple and Amazon to Novartis and Johnson & Johnson, the big players are jumping into health tech with both legs and starting to advance the game. Even the smaller players are finding traction by establishing business and research relationships that can take their idea and find both clinical validation and market access. We'll see acquisitions dominate the game over traditional IPOs. HIMSS will be the center of relationship building and deal making.
More from the consumer
It seems like no health tech meeting exists today without the proverbial phrase, "consumer centricity." HIMSS will be no different. The role of the patient, caregiver, and consumer will be on the tongues of every innovator. Interestingly, the empowerment of the consumer may actually come from some of the big players like Apple, with their Apple Watch and new clinical study on atrial fibrillation with Johnson & Johnson. But remember, Apple won't be at HIMSS!
Don't forget those comfortable shoes!
It's the world of the quantified self. So, bring your Fitbit and track how many steps you take each day—you should easily get to 10,000.  But remember, the deal breaker for many is comfortable shoes. Technology is one thing, but sore feet is certainly another!
See you there!