FINN Partners Continue to Expand Global Reach with Irish Acquisition
December 7, 2021
Leading Irish Independent Integrated Communications Firm 360 Joins FINN EMEA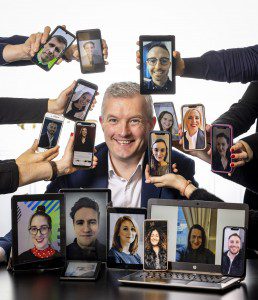 New York and London, December 7, 2021 — Global marketing and communications firm FINN Partners has acquired 360, one of Dublin's most highly regarded independent integrated communications consultancies, adding the Irish firm to its EMEA footprint.
Known for its work with both local and international clients, 360 was established by Dan Pender in 2011. It has a team of 17 people and represents a broad spectrum of clients from industries including technology, food & beverage, financial services, manufacturing and health, providing them with integrated communications services including PR, Public Affairs and digital marketing. Dan Pender, founder of 360, will become Managing Partner, 360, a FINN Partners Company, and will report to Chantal Bowman-Boyles, Managing Partner, EMEA.
Over the past year, FINN Partners offices in the UK, Germany and France have collaborated with the 360 team on a high-profile brief for an FDI client, the Industrial Development Agency (IDA Ireland), and the strength of that collaborative relationship and the work that has resulted from it, has been a great illustration of what the two teams can achieve together.
Peter Finn, founding partner of FINN said: "Our vision is to create a world-class agency, with a heart and a conscience, that any client would be happy to hire, wherever they need support in the world. Since founding FINN Partners almost ten years ago, we have grown our global footprint from six to 25 offices on three continents. Ireland is an increasingly important market for global and international clients seeking to establish or grow a presence in the European Union. We see the addition of 360 to our team as strategically important for our continued global growth."
Dan Pender added: "This is a milestone moment for our business. Over the past decade, we have built from the ground up, underpinned by a firm belief in the role communications plays in organisational success. Our team has been central to our achievements every step of the way. When we were considering how best to advance the next phase in our growth, a global footprint, deepening our service capabilities, and team development were key factors. It was apparent from early-on in our discussions with FINN Partners that there was a real fit. We're excited to become part of a global firm that celebrates entrepreneurial spirit and creativity, with leadership that shares our vision of the role communications plays in today's world.
"As part of FINN Partners, our ability to move to the next level is fast tracked. Our existing clients can access a deeper well of expertise and benefit from expanded capabilities, including specialities such as global intelligence, integrated marketing, employer brand and ESG. We've been increasingly pitching for global accounts and with colleagues in 25 global locations including international centres like New York, Washington, London, and Singapore, our reach will be even greater."
Chantal Bowman-Boyles went on to say, "As we have built our organisation in Europe, we have focused on mirroring the skills and capabilities of our teams in the US, such that we can confidently offer our clients the same FINN Partners' experience in this region. The acquisition of 360 is a perfect fit for us, since the team has experience working with clients across multiple sectors to deliver programmes that work across multiple disciplines. We've been working with Dan and his team for some time now on joint client assignments and they're a fantastic bunch of people with similar culture and values to ours. We're looking forward to working ever more closely with the team in Dublin and further expanding our business in Europe."