Fan Love, Anger & Disappointment for Game of Thrones Season Eight
May 28, 2019
The dust has settled from the recently aired finale of HBO's eight seasons long TV series Game of Thrones. It's no surprise that since it's premiere in 2011, the drama has attracted a cult-like fan base. The final episode, "The Iron Throne," reached record high numbers for HBO viewership with around 19.3 million viewers. The popularity continued online where Game of Thrones has been mentioned 36 million times in total, an average of 10 times per second over the course of the past month. We dug a little deeper into the online conversation happening throughout the latest season, and found the fan's sentiment is mixed with anticipation, love, anger, and disappointment, varying across episodes.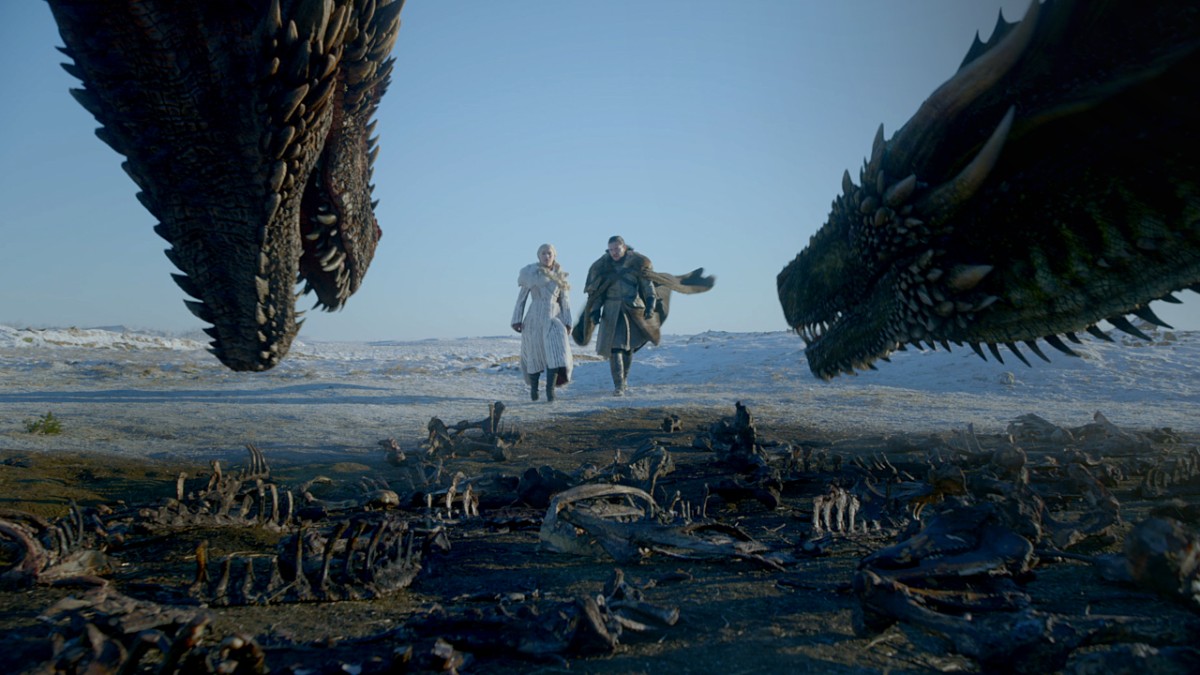 Image Credit: HBO
With each episode airing Sunday nights, the online conversation peaked on the following Mondays.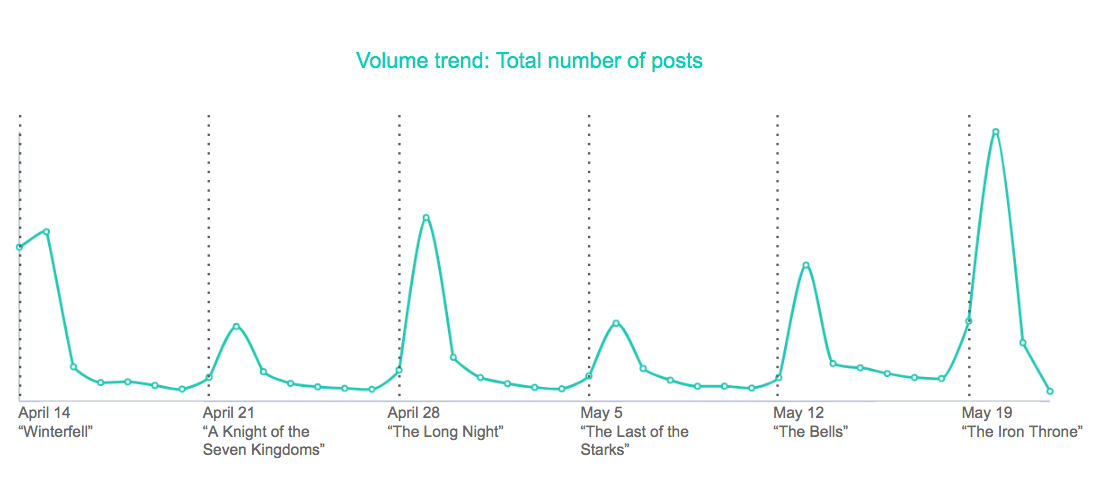 The days following "The Long Night," "The Bells," and "The Iron Throne," showed peaks for negative sentiment among online posts, with many of them expressing 'disappointment' and 'anger' regarding the show, and complaints about the spoilers. GoT fans are also found to be interested in "Avenger Endgame," and the negative sentiment of disappointment was found in both shows ('smh' = 'shaking my head').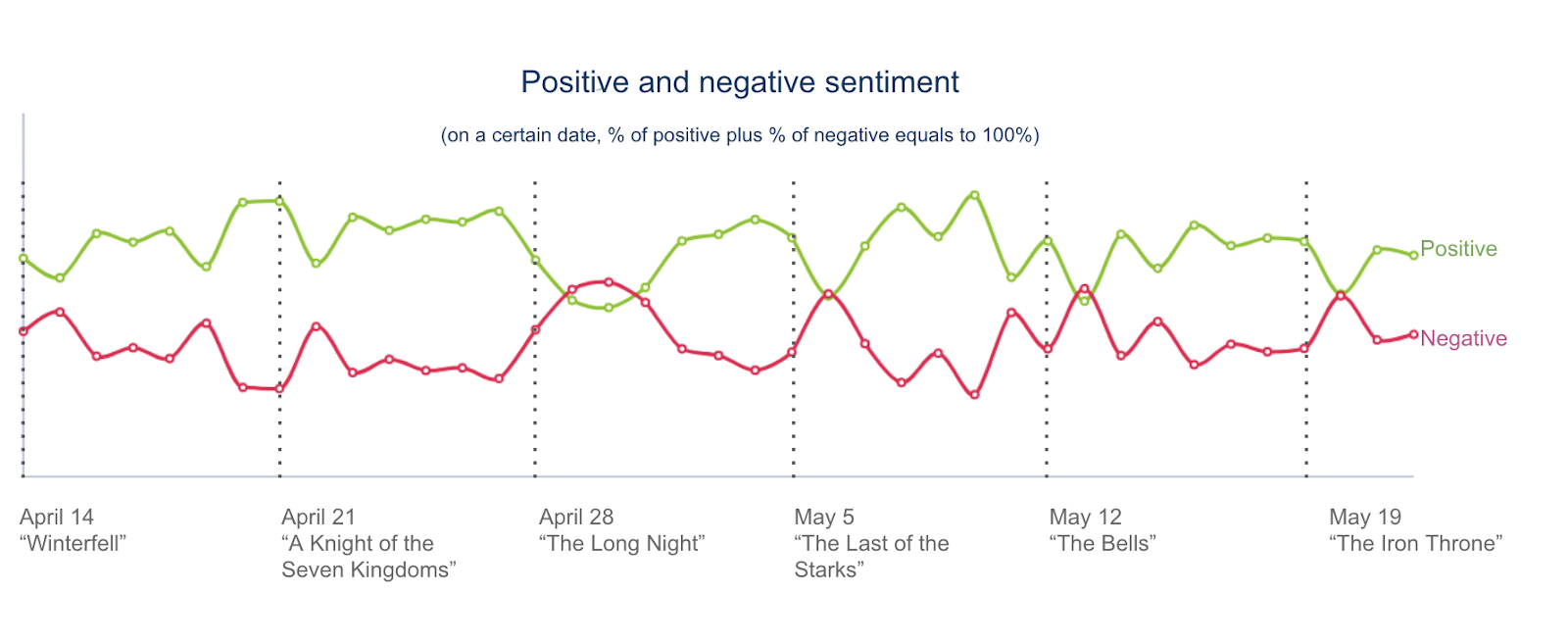 Trends in sentiment throughout Season Eight show peaks of anticipation and love within the conversation occurring in the middle of the week, between new episodes being released. Although occurring in a smaller percentage of posts, anger showed upticks in the days following episodes, specifically the last three – where fans aired their grievances about the most recent events or complained about spoilers.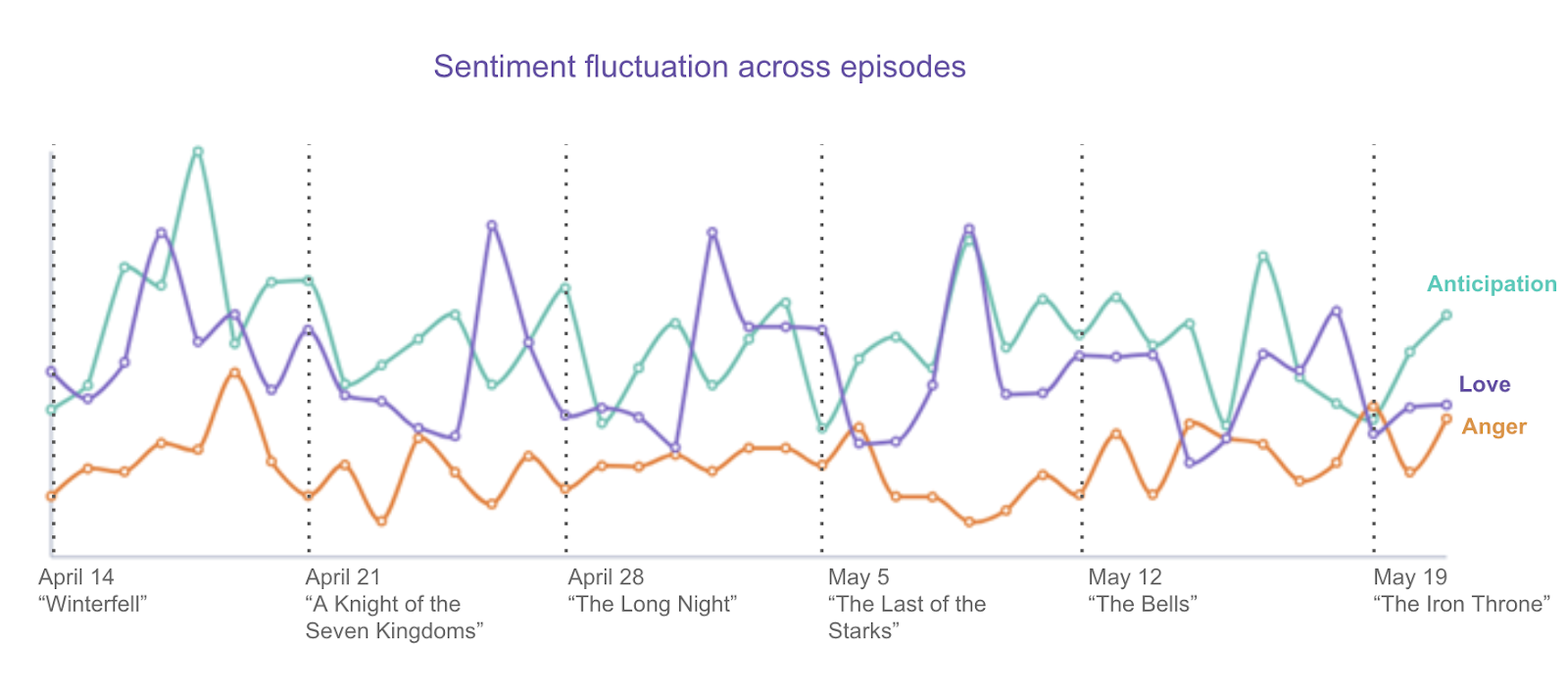 The final episode sparked controversy among fans where the word 'disappointing' or 'disappointed' appeared in online posts at the highest volume of all season. This might explain why over one million people signed the petition to rewrite the session eight.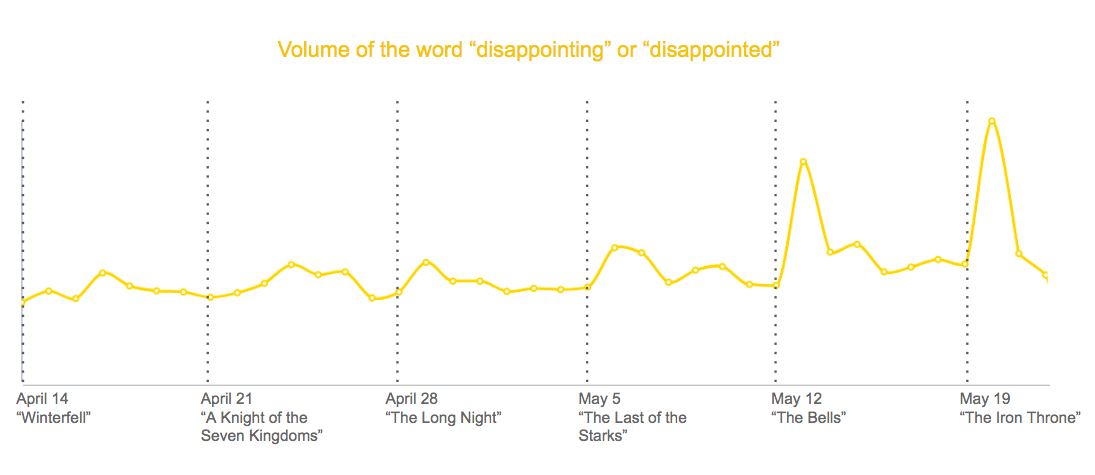 While #GameofThrones and #GOT were the popular tags used throughout this season, tags like #ForTheThrone, #JonSnow, #BattleOfWinterfell and #WinterIsHere were popular in the conversation as well.

Also included in the online conversation were emojis. Plot-relevant emojis such as the dragon, the crown, the snowflake, the wolf, and sword emojis were used frequently.

A sizable majority of the conversation around Game of Thrones is taking place on Twitter (87%), followed by Instagram (7%).

Within the United States, males not only contribute to more volume of the conversation, they were also leading every single day of 39 days of monitored conversation.

GoT fans also show interest in various video games (roleplaying, strategy, adventure, action, etc.) and drama and holiday TV programs.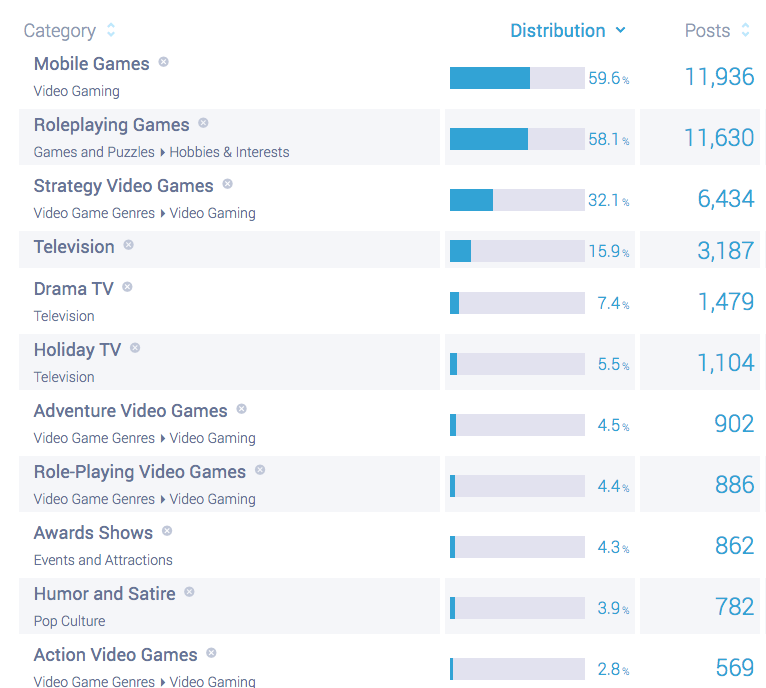 ABOUT FINN RPM
FINN Partners' Research, Planning & Measurement team is the agency's research and intelligence group providing a full array of primary research and big data analysis instruments to inform creative platforms, plan marketing campaigns and measure effectiveness. To learn more, email rpm@finnpartners.com.