"Take Care of Yourself, and If You Can, Someone Else, Too": Why Mindset Matters in the Cancer Patient Journey, and Why Coordinated Research May Be the Key to Better Treatment
December 15, 2020
Imagine you're walking through your neighborhood, talking on the phone with your sister, when suddenly you can't understand what she's saying. That is, you can hear the words themselves, but they no longer make sense. Your vision grows fuzzy, then black. When you wake up, you don't know where you are at first — until you realize you're in a hospital bed.
Jodi Brooks, managing partner at Finn Partners, experienced this very situation. After she woke up at NewYork-Presbyterian Brooklyn Methodist, an MRI showed a walnut-sized lesion in the left temporal lobe of her brain: a stage-three malignant brain tumor. Since Jodi's diagnosis in June 2020, she has braved an awake craniotomy surgery and six weeks of radiation, and is now undergoing an intense 12-month chemotherapy program.
In December 2020, Jodi partnered with "Be Bold, Be Bald!" for its annual fundraising event to share her story in a live panel with her doctor, Dr. Rohan Ramakrishna, a Weill Cornell Medicine neurosurgeon and chief of neurosurgery at NewYork-Presbyterian Brooklyn Methodist. Dr. Ramakrishna is also a co-director of the William Rhodes and Louise Tilzer-Rhodes Center for Glioblastoma at NewYork-Presbyterian, which was the beneficiary of the fundraiser.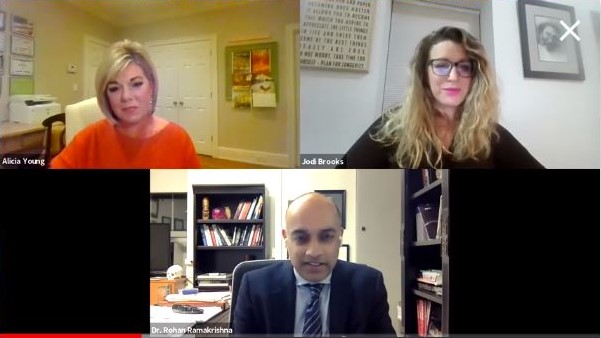 "Be Bold, Be Bald!" was founded by members of FINN's Boston office, Small Army, in honor of Small Army's co-founder, Mike Connell, who lost his battle with cancer in 2007. Jodi told panel moderator Alicia Young of Finn Partners that she wanted to support the organization by speaking about her own experience during the fundraising event.
"When I saw the 'Be Bold, Be Bald!' video that Jeff [Freedman] and the Small Army team put together, I realized that I could help this cause personally," she said. "Anyone who knows me knows that I am outgoing, but I don't want pity. But I realized this was the right time and the right moment to share my own story, and show that we can all support initiatives like this by working together and giving our dollars, our time or both."
The Challenges of the Patient Journey
During the panel, Jodi discussed how she has been coping with her diagnosis. 
"The hardest part of this for me has been the lack of control — that I couldn't personally control or fix this, and that nothing I did or could do myself would change this," she said. "Not knowing what will happen has been tough, and that is analogous to our current environment amid COVID-19. Everyone is sharing that same level of uncertainty. But I'm figuring it out."
Jodi added that, as tough as undergoing radiation was, she learned something during her treatment: "When I had radiation, I had to be still. I couldn't move for those six minutes, every day. It scared me at first, but then I started to look forward to it. It showed me being uncomfortable is OK."
Jodi, a seasoned communications professional, initially struggled with speech and language processing, but has been working to restore these abilities.
"It was hard to talk in the first few weeks; some syllables were, and still are, tricky," she said. "I work every day on tasks like reading aloud and saying words in categories to allow for easier retrieval. Dr. Ramakrishna assured me that the brain was 'elastic,' and these cognitive abilities would come back, and they are. It's incredible."
Dr. Ramakrishna noted these kinds of challenges are part of a less obvious side effect of cancer: the emotional toll of battling the disease.
"There's the medical aspect of taking care of yourself or a loved one with cancer, and then there's the 'dealing with it' part," he said. "Jodi's doctors only see her for a short amount of time; the rest of the day, she has to take care of herself and her family while dealing with a diagnosis [both physically and emotionally]."
Hope and Support, Plus Research, are Key
Jodi pointed to her job at Finn Partners as a source of stability and an additional level of support during her battle.
"Working with people who care about you and give you room to be good at your job, while also giving you the space to heal and work with your health care needs, is critical," she said. "I realized while going through this, and going through COVID-19 and seeing others lose their jobs, that this kind of workplace isn't as common as it should be."
Helping people who are battling cancer to "be as strong as they can be" is the best way to support them, Dr. Ramakrishna added. "I often listen to the 'Freakonomics' podcast and at the end, host Stephen Dubner always says, 'Take care of yourself, and if you can, someone else, too.' We have to remember that everyone is going through something, and as friends and family, we have to be patient and try to be their best advocate. They might not be able to advocate for themselves, but we can."
Jodi has also been inspired by a "beautiful surge" pushing companies to do the right thing when it comes to the important issues: "Working with FINN colleagues on what really matters — such as diversity, women's rights, sustainability, and health care rights — feels much more natural and different than it used to for me. It feels good to do for others, and it means more to me now than a [PR win like a] product placement."
Jodi's battle with cancer will never be over. Brain cancer, unlike other forms of cancer, never goes into remission. Yet Jodi and Dr. Ramakrishna are both hoping that by continually monitoring her brain using imaging technology, and through ongoing innovative treatments and the care of her doctors, she will be able to catch and treat any new growth quickly. New research funded by organizations such as the Rhodes Center — which works to advance the care and treatment of glioblastomas (a highly aggressive brain tumor like Jodi's) — will be an important piece of the puzzle.
"The brain is so wonderfully complex, and there is still so much unknown about it," Dr. Ramakrishna said. "We're funding the projects of professionals within this field, but also the projects of talented people with expertise in different areas of cancer. By collaborating across disciplines and providing a coordinated research effort, we're hoping we can lend other innovations to the treatment of glioblastoma, and transform the therapies we use to treat brain cancer."
Over the summer, Dr. Ramakrishna told Jodi something she had been hoping to hear: they were going to be friends for a very long time.
"As a doctor who treats patients with cancer, my job is to be realistic, but also hopeful, and use every bit of talent and skill our team has to give people like Jodi the best possible outcome," he said. "That's always our goal."
More information about Jodi's story and her medical treatment is available on the Weill Cornell Brain and Spine Center website.