A closer look at Sabre Finalist, Metro Nashville
May 5, 2021
What was the challenge?
For Metro Nashville's coronavirus crisis, our initial challenge was balancing the need for quick communication that would ease the public while also ensuring that the information was accurate. Early on in the pandemic, our main goal was to confront misinformation and rumors and give accurate and timely information. Once we developed a sustained and organized cadence of disseminating information, the next challenge laid in coordination between multiple private sector and governmental partners. Working directly with leaders like Dr. Alex Jahangir helped because he too saw this need and quickly addressed the need for communication coordination between multiple partners.
What was our solution?
Working with both Dr. Jahangir and the Metro Nashville Office of Emergency Management, we developed communication strategies and a two-way work stream between the multiple partners. All information that was going to the public from Metro Nashville flowed through this work stream to ensure 1) the information was accurate and 2) it was easily understandable and delivered in multiple mediums for multiple audiences in multiple languages. There was no "Playbook." There was no time to run table-top exercises – we had to act.
Why was the work important?
The fears of a once-in a lifetime pandemic gripped the entire world, and the residents of our city and state were scared. We had to provide timely information that was accurate, reassuring, and hopeful that we were all going to get through this together.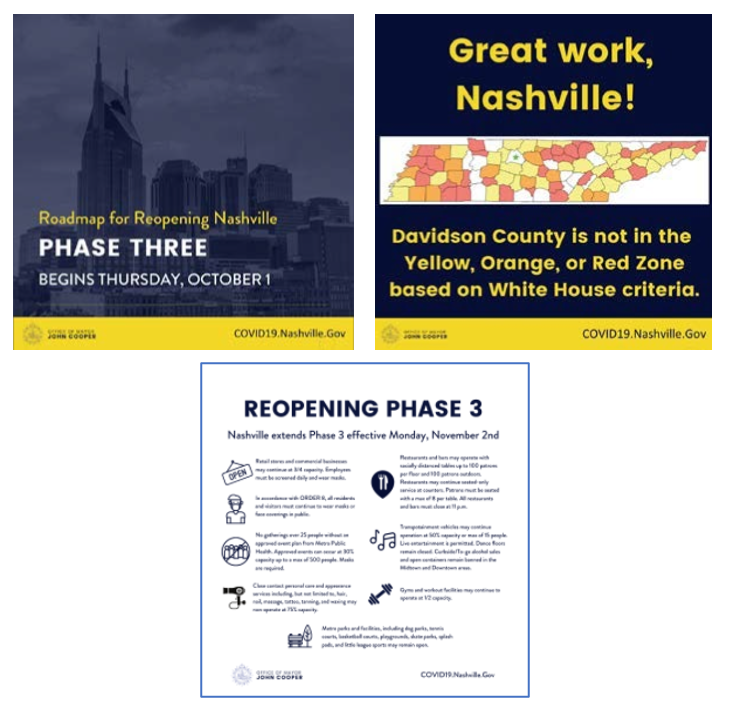 Any interesting facts or behind the scenes moments?
The emotional toll of the team was a big opportunity for us. Not only were our team members working 18 hours+, seven days a week, we also were unsure and frightened for the health of our family and friends. As a company we supplied the support our team needed so they could focus on the task at hand.