A closer look at Sabre Finalist, Hip Hop Public Health
May 10, 2021
What was the challenge?
Since the beginning of the pandemic, Black and Latino populations have been disproportionately affected. While only representing 13% and 17% of the total population, respectively, Blacks and Latinos contract the virus at alarmingly accelerated rates. Yet from the start, messaging failures abounded and communities were not receiving culturally relevant information that resonated.
As the negative repercussions on minority communities began to become clear beginning in April 2020, New York-based, global nonprofit Hip Hop Public Health (HHPH) enlisted FINN and our multicultural marketing experts led by Global Chief Diversity Officer and Senior Partner Helen Shelton to help address this critical issue.
We knew that the relatively simple messages around hand washing, mask wearing and other safety protocols needed to be conveyed in culturally relevant ways. Our primary challenge – and responsibility – was to get the word to the people where they were – and fast.
What was the solution?
How to best get the word to these communities? HHPH – founded in 2006 by neurologist Dr. Olajide Williams and iconic rapper Doug E. Fresh to build health equity through the power of music, art, and science – and FINN Partners – a global communications firm with particular expertise in multicultural marketing and communication – bet on the power of music.
FINN and HHPH collaborated on talent recruitment for a trilogy of hip-hop music video PSAs with original songs and videos featuring trusted voices in the worlds of entertainment, medicine, sports, journalism, civic leadership, and more.
HHPH produced:
And FINN found the audiences, generating over 360 million media impressions through national radio, television and digital pro-bono partnerships; pursuing strategic social media promotion to fuel viral success with over 10 million shares and likes; and mobilizing communities in-market by combining media outreach and grassroots virtual events with civic leaders in cities across the country.
Why was the work important?
As the pandemic continued to sweep the nation and the world, we recognized the need to take the message and the music right to the people. The PSAs' message wasn't "do the right  thing" or "be selfless" – the message was love. Love yourself and love your community. This was particularly impactful as the other pandemic – racial and social unrest – began to spread in May 2020.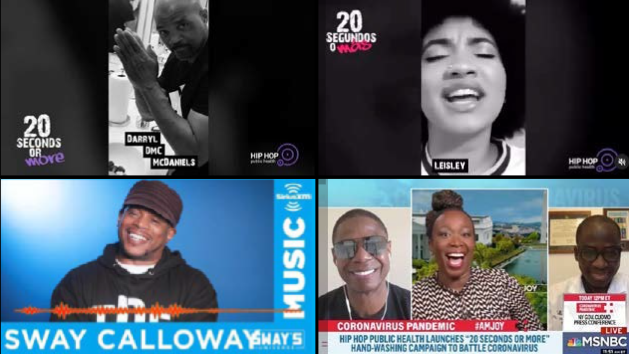 Any interesting facts or behind the scenes moments?
As a result of our efforts, FINN was instrumental in raising Hip Hop Public Health's profile as a trusted resource and health sector leader. This in turn helped generate unprecedented philanthropic and corporate support. As an example, we secured a high-profile national television interview on MSNBC's AM Joy which was seen by a leader at the Skoll Foundation. This led to an ongoing collaboration and much-needed support of HHPH's mission to eradicate health inequities by harnessing the power of art, music and science.