A closer look at Sabre Finalist, Citizen Verizon
May 7, 2021
What was the challenge?
Our challenge was to create an event that would not only focus on critical issues being highlighted by the pandemic but to implement a successful launch of Citizen Verizon that focuses on Verizon's responsible business plan. It was exceptionally difficult for corporate programs to break through during a global pandemic, a tumultuous election year, raging natural disasters and social justice protests. FINN needed to create a big, bold activation that would transform the launch of Citizen Verizon into a high-profile, attention-generating event.  As Verizon's CSR PR agency, our opportunity to focus on craving out strategic social good goals in a way that would break through to consumers.
What was our solution?
FINN conceptualized Citizen Verizon Assembly (CVA), a public-facing virtual town hall to bring together leading thinkers, experts, celebrities, business and nonprofit leaders to discuss solutions to pressing social issues. Alongside Verizon, we created the theme for the inaugural Citizen Verizon Assembly (CVA) – Charging Social Change Forward. It captured the essence of Citizen Verizon's responsibility framework and each pillar: digital inclusion, human prosperity, and climate protection.
Why was the work important?
The work was important because it helped establish Verizon a key leader in all these issues and introduced Citizen Verizon to a wide consumer audience as well as key influencers. The first CVA featured a panel of all-star thinkers, influencers, activists and business leaders including Yara Shahidi, Andrew Yang, Karamo Brown and CEOs from Ben & Jerry's, Weight Watchers, Bombas and HP along with Verizon CEO Hans Vestberg. FINN helped to drive messaging on Verizon's social responsibility efforts, which is at the core of its brand identity and create a new owned media asset for the company's responsible business platform moving forward.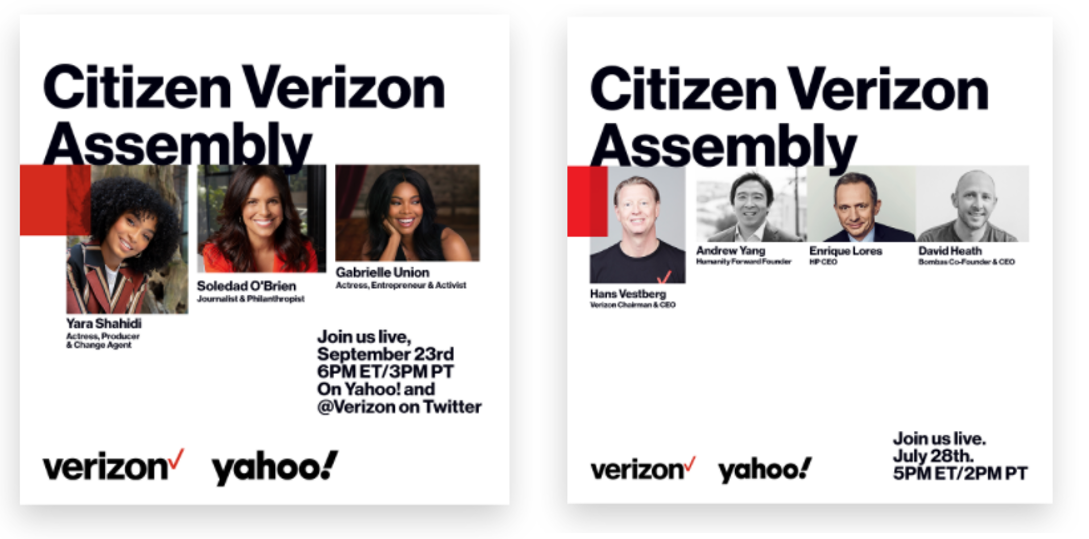 Any interesting facts or behind the scenes moments?
FINN CSR team secured 100 earned media placements for the CVA, and it was proud moment for the team as this launch was driven almost exclusively by PR, the inaugural Citizen Verizon Assembly garnered more than one million views, thereby generating widespread awareness of Verizon's social responsibility commitments and the company's actions to help solve social issues.