Leveling the 'paying' field.
For 25 years, the uneven 'paying' field had left the USWNT earning less than the men, despite better performances on the world stage. With cries from players, fans and stakeholders going unheard, Title Nine CEO Missy Park did something unheard of. She gave the team and players $1 million. The biggest check in Title Nine's 32-year history. No strings attached.
GOAL
"Kick in for Equal Pay" – a rallying cry to companies and individuals that the fight for equal pay would take a village.
SECTOR EXPERTISE
Sports Marketing
ACCOLADES
SABRE- Marketing Communications: Inclusive Marketing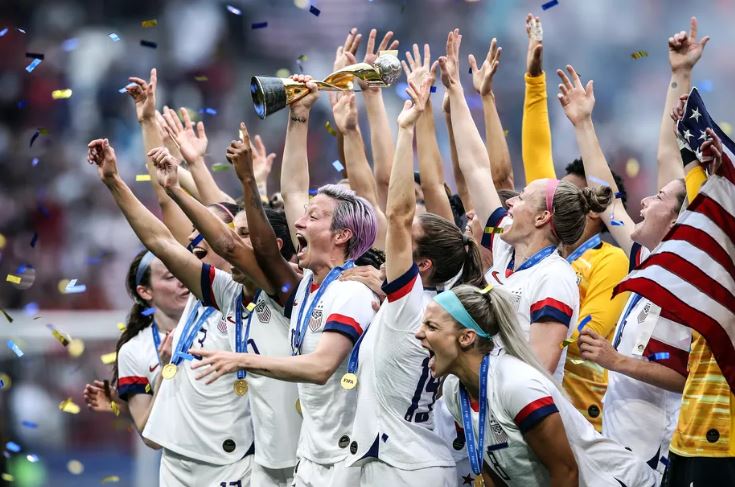 2.5B+
campaign impressions
13
companies donating to the fundraiser
The Work
With only four weeks until the launch of the "Kick in for Equal Pay" campaign, which was strategically timed to the USWNT's Olympic matches, and a revisit of the Title IX court case, Park reached out to FINN's Consumer, Lifestyle and Sports practice (run by "the other Missy") to develop a strategic campaign to kickstart and make the most of the announcement.
Along with giving the players $1 million, Title Nine's "Kick in for Equal Pay" campaign served as a rallying cry to companies and individuals that the fight for equal pay would take a village, and if U.S. Soccer wasn't going to step up, then Title Nine would.
To achieve widespread awareness and become the catalyst for change, FINN determined the following marcomms metrics would need to be met:
Attract the attention of US Soccer
Generate Mainstream national news stories
Create Major Broadcast hits on national channels
Secure Donations from at least 10 corporate partners
At least 100k organic impressions on social media
Minimum of 2% engagement rate during the social campaign
From a media perspective, FINN had to strike while the iron was hot. The Tokyo Olympics were weeks away, and as one of the favorites, national media were covering the USWNT with fervor. Aware of the ongoing legal battle surrounding pay equity in sports, along with a swell of support across the board, FINN knew the campaign would appeal to the country at large to create an emotional connection to the USWNT.
Ultimately, the team:
1. Generated maximum reach through national radio, television and digital press coverage.
2. Encouraged strategic social media posts/promotions to fuel viral success.
3. Leveraged athletes to generate interest within their local communities and alma maters (universities).