OUR WORK hawaii state department of health
Our best shot.
In mid-pandemic, as COVID vaccination rates floundered, the Hawai'i State Department of Health sought a "rapid, emergency" educational campaign to encourage vaccine adoption. We recognized immediately the need to synthesize complex science-based facts into easily understood, motivational information audiences could relate and respond to. The campaign also had to combat prevalent urban myths regarding vaccines, respond to mis- and dis-information, and create accessible touchpoints and platforms people could trust.
While the resulting Our Best Shot Hawai'i campaign's message was clear, its efficacy depended upon how it was delivered. Focus groups of hard-to-reach audiences were employed to test messaging. A searchable content library was curated to share information on all aspects of COVID prevention. We provided a safe and trusted voice relying on those deemed most believable by our target audiences: medical professionals and non-governmental community leaders. We used experiential storytelling that highlighted community members' personal experiences, helping remove the specter of politics and strengthen emotional ties with audiences. Finally, the campaign provided sense of urgency, with enough information and motivation to understand that the time to "wait and see" had passed.
GOAL
Provide unvaccinated Hawai'i residents with the tools and motivation to make the informed decision to become vaccinated.
SECTOR EXPERTISE
Public Health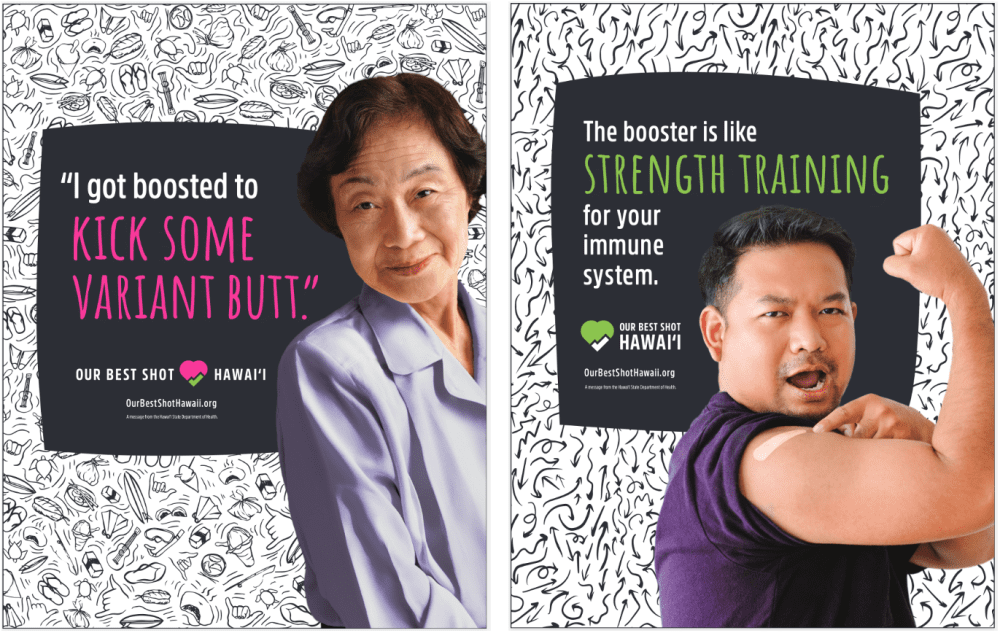 The Work
After the first six months of the Our Best Shot Hawai'i campaign, the number of vaccinated individuals climbed from 60% to 85%, helping Hawai'i become one of the most vaccinated states in the nation.
We developed a fully integrated campaign to reach "movable middle" audiences through:
Qualitative and Quantitative Research
TV, Digital, Radio, OOH & Print Paid Media
Social Media and Influencers
Earned Media
Community Events