How has the pandemic influenced B2B decision making?
March 25, 2022
SMEs and Influencers have risen in significance when it comes to B2B decision-making, while PR teams should actively position them as media spokespeople and primary topic commentators. 
There is no doubt that the pandemic has affected a plethora of industries, attitudes, behaviours, and perceptions. But how has it shaped B2B buyers' decision making? How have Subject Matter Experts (SMEs) and Influencers risen in importance? How have B2B buyers' influences changed and subsequently, what does this mean for B2B marketers? 
We had a look through the responses in our B2B Journeys Research, conducted alongside Global Web Index, and explored the pandemic's impact on decision making. Here's what stood out.  
Notably, the 2020 State of B2B Influencer Marketing Report from TopRank states: "Only 19% of B2B marketers are running ongoing influencer engagement programs, although 74% of B2B marketers agree that influencer marketing improves customer experience with the brand." Our research findings are in line with this, and highlight that the importance of SMEs and Influencers in the B2B space could not be any clearer. 
Generally, B2B decision-makers are more likely than they were in 2019 to utilise sources when making decisions, with all sources increasing in importance during 2021.  
There has been a significant rise in the use of social media channels, whereby Q2 2020 boasted the highest figures on record for global social media usage, as widespread lockdowns forced consumers to find ways to fill their free time (GWI). This has been especially true for platforms such as TikTok which not only increased its monthly users from 32% to 43% since 2020 (GWI), but also grew by +180% in 15-25 year old users in the US after the pandemic broke out (Statista). Hype House is another primary example of online influencers' growing popularity, as it continues to achieve an average of over 2 million views per video posted (Social Stats). As such, it should come as no surprise that Influencers' and social media channels' importance has crept into the B2B world.  
Along the same lines, during the pandemic the world has had to heavily rely on SMEs, increasing reliance on experts, ranging from healthcare practitioners and scientists to economists and policymakers. These figures have been globally vital in decision-making around health policies, restrictions, and the overall handling of the pandemic.  
Our research unveils these sources' increasing importance from 2019 to 2021. The largest increase in the likelihood of use during decision making was in reliance on social media channels (+27%) across the space of two years. SMEs and Influencers also saw an increase in significance for B2B decision-makers. Compared to 2019, there was a +4% increase in 2021 in B2B buyers' likelihood of using SMEs or Influencers when trying to find information to help during the decision-making process.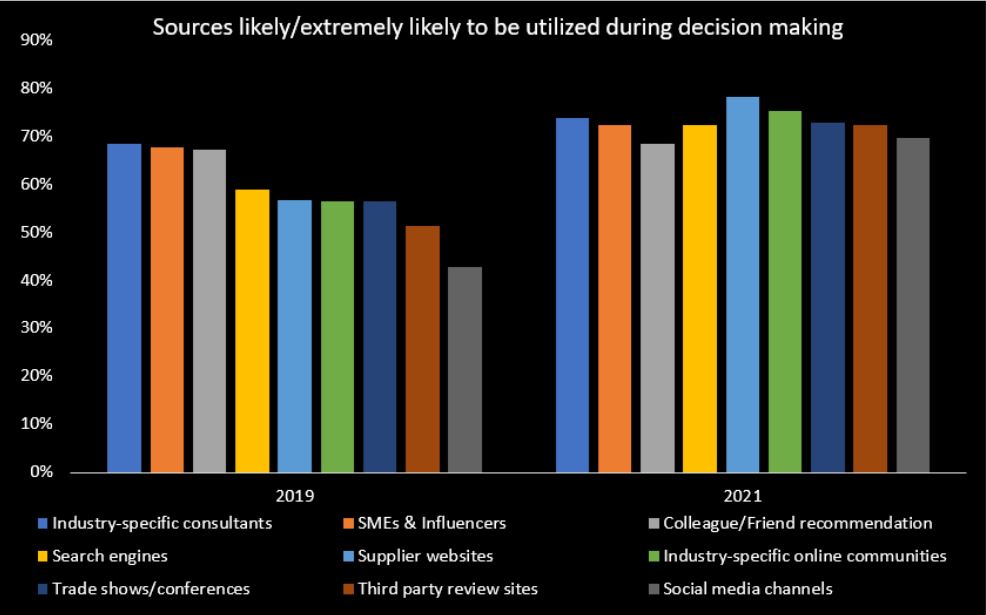 B2B influencers were explored by FINN Partners in a white paper last year, highlighting that "trust, credibility, relevance and visibility are shared influencer qualities, whether B2B or B2C", which seems to still be applicable in our most current research.  
Looking specifically at the effect of the pandemic, SMEs and Influencers consistently rank high in their B2B decision-making influence.  
Our latest insight reveals that SMEs and Influencers are among the highest-ranking source of information for decision-making influence. B2B decision-makers heavily rely on them and are more likely to use them to make decisions since the pandemic began and are much more likely to use them after the pandemic has ended.  
As a result of the pandemic, B2B decision-makers' influence by SMEs & Influencers has remained consistently high compared to other information sources. Two fifths (40%) specifically note that they are more likely to rely on them as they make decisions since the COVID-19 pandemic began. One third (33%) state that they are much more likely to use them once the pandemic has ended and business operations return to normal compared to prior to the pandemic.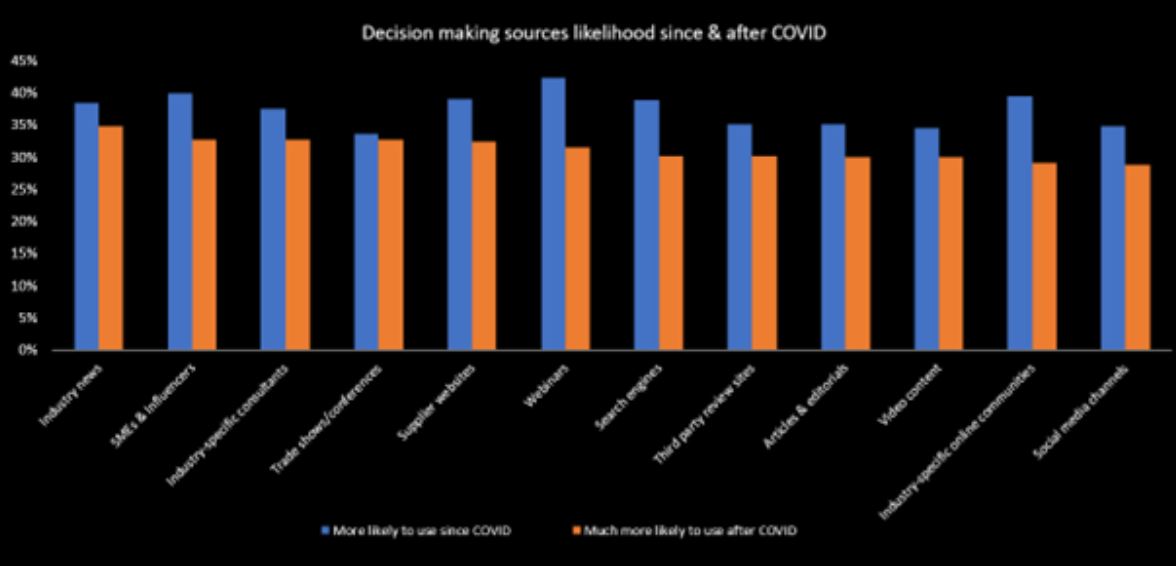 According to a Forbes article, "buyers want to know that the solution they're researching is the one that can solve their pain points, and content produced with the help of an SME can meet that need quickly." 
This information is particularly important for B2B brands, as they should be actively harnessing the power of their people, such as executives and positioning them as subject matter experts as media spokespeople and topic commentators. The use of internal SMEs and Influencers offers organisations the opportunity to own a topic, define an issue and establish a relationship in which their audience views thought leaders as experts in their respective markets. This inevitably allows brands to convey their ideas and concepts in a more personal and authentic style.  
Learn more about FINN Partners' Global Intelligence capabilities and expertise here: https://www.finnpartners.com/service/research-insights/