3 Digital Marketing Myths. DEBUNKED.
This article was contributed by Joyce Liong, our Senior Partner for Digital & Insights at Finn Partners Singapore.
Having worked with many different brands over the years, I've met my fair share of clients who are new to digital marketing. Many are attracted by the promise it holds but do not really understand how digital marketing works.
And just as there are urban legends in Asia — like your mum asking you not to point directly at the moon, especially a full moon, or the back of your ears will be snipped off while you're sleeping — there are as just as many myths about digital marketing. Here are three myths that I'd like to put to rest today.
Myth #1: Digital marketing is free
To the people who still believe in this, I'd like to say "there are no free lunches in this world". Everything comes with a price. And digital marketing is definitely not free. Especially not if you expect it to help drive measurable business outcomes.
Here's a look at the average Cost Per Click (CPC) for Google Ads search in some of the key markets in APAC in July 2022. These costs will differ depending on when you are advertising, your target audiences, keywords as well as competition for all these factors mentioned.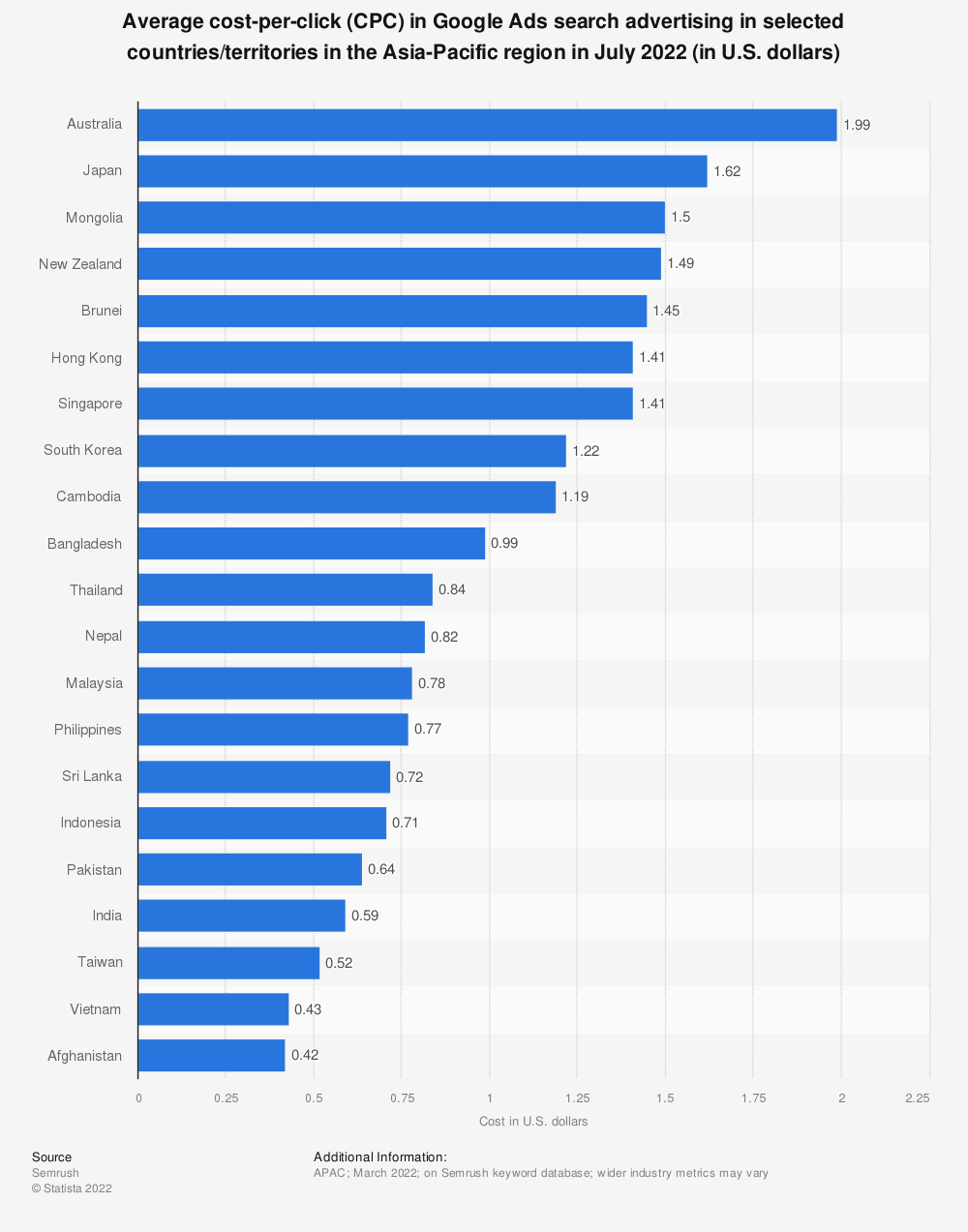 Clearly, digital advertising isn't free. There is cost involved in getting your ads on various digital platforms and amplifying it to your intended audience. There are also costs associated with developing the plan, content and creatives before it gets to the channel – not to mention reporting and analytics, as well, to measure and optimise results.
So then, what kind of budgets should marketers and decision makers set aside for digital marketing? This is a popular question.
Digital marketing campaigns can start from upwards of USD150,000 a quarter depending on the answers to these questions:
· What are your goals and objectives?
· Who are your target audiences?
· How many markets are you looking to reach?
· Which markets are your priorities?
· How well-known is your brand in your desired markets?
· Which platforms/ channels are you looking to use?
· What are your desired outcomes?
Myth #2: Everyone is a potential customer
This is another good one. And every time I see or hear this in a client brief, I shudder. Why? Because when you say to me, "I want to market to everyone", what you're telling me is "I don't actually know who my customer is."
I have yet to meet a marketer who tells me "I want to market to everyone and I have unlimited funds to spend." Because that's what you are going to need to reach everyone. Most of the time, marketers have a limited budget, and their aim is to maximise outcomes with that budget. To ensure your marketing dollars are well-spent, you need to know who your customers are. Don't cast too wide a net, because catching everybody, or marketing to everyone, is literally marketing to nobody.
The next question that follows is "How do I define my target audience?". There are many ways to define your audience, depending on what your product or solution is. You can look at their demographics, their interests, the markets of priority, the industries they're in, the type of job junctions, their areas of expertise, their seniority, how they would use your product or solution. Are they business decision makers? Are they influencers? Are they Gen-Z? Millenials? The list goes on.
The more exacting your audience definitions are, the more information you will have at your fingertips to evaluate the most relevant and impactful message, content, creatives and channels to utilise in order to reach and influence your audience effectively.
This leads me nicely to my third point:
Myth #3: Marketing research and insights is a 'good to have'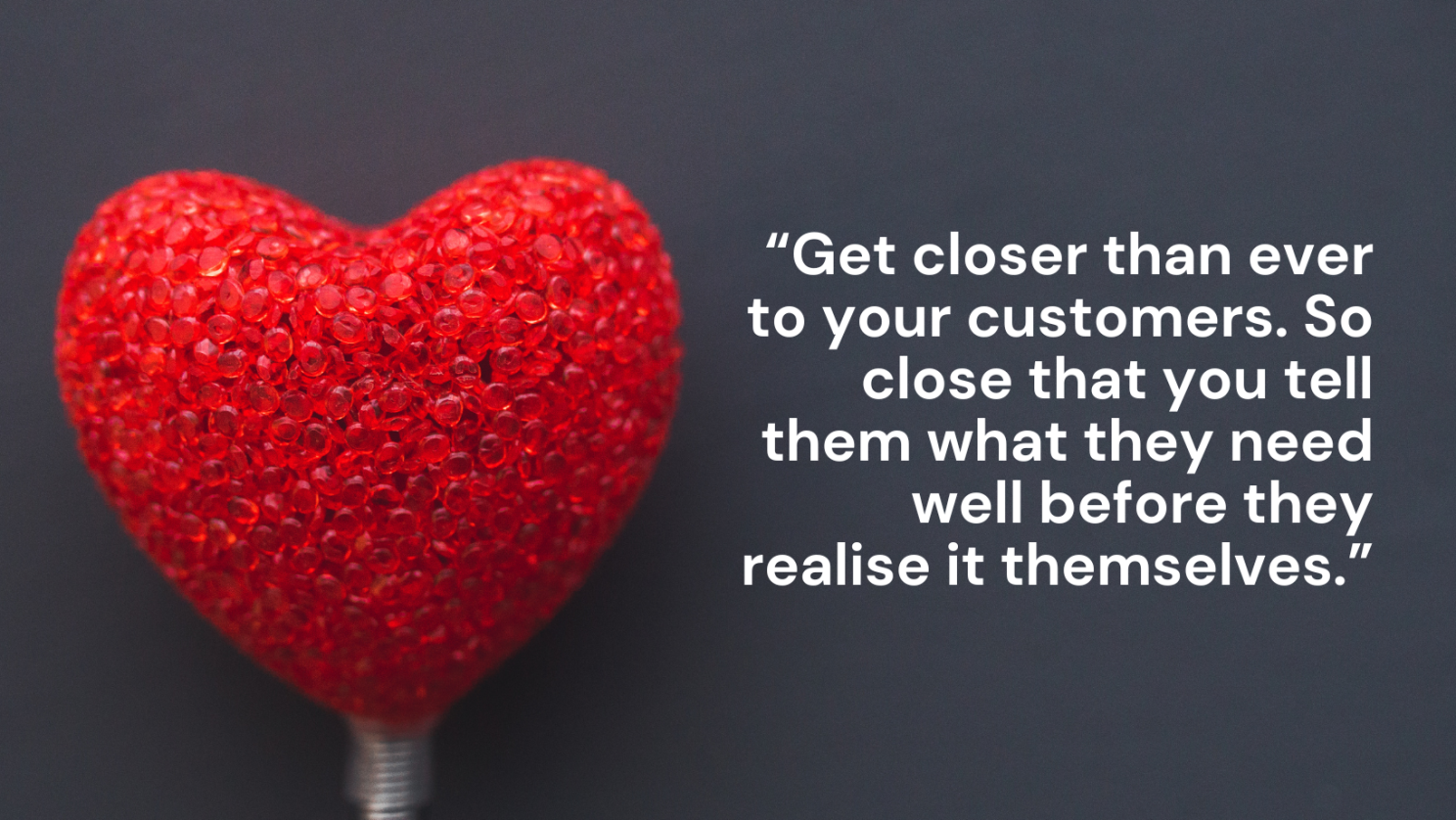 Steve Jobs once said "Get closer than ever to your customers. So close that you tell them what they need well before they realise it themselves."
Marketing targets people, not faceless corporates or organisations. To communicate effectively with your audience, you need to understand who they are as a person. You want to get them to be convinced, and eventually buy. To do that, you need to first get into the psychology of why they buy.
· What do they want?
· What are they thinking about?
· What issues are they facing?
· And most importantly, what would compel them to take certain actions?
If you want to maximise the success of your marketing programmes, then research and insights is a must-have. Below are just a few areas of research and insights studies which could be helpful to shed crucial light on your audience and improve the effectiveness of your campaigns.
Market Landscape Study: You know which markets you want to be in, but what do those markets look like so that you can be fully prepared to succeed?
Persona Profiling: You know you want to target technical and business decision makers. But what are their pain points and buying considerations? Where do they do their research before they buy? What should you say to them for the best chance of success?
Measurement Framework / Brand Lift Study: After the launch, how do you know for sure that you're making an impact with your target audience?
Develop a better understanding of your markets and competitive landscape. Delve deeper into the buying behaviour and personas that give you insights into your audience's motivations. In turn, this helps inform your marketing strategy and drive the overall success of your marketing programmes.
These are just three of the more commonly misunderstood areas of digital marketing. I hope I've also addressed some of the questions you have always wanted to ask. Or perhaps now you have a good starting point for how you should approach your digital marketing programmes.
Do you have more burning questions about digital marketing? We would love to hear from you. Get in touch with us at FINN Partners Singapore (formerly known as Ying Communications) to find out how we can best support you with your digital marketing needs.
Connect with me on LinkedIn or email: joyce.liong@finnpartners.com
---
Claim Your Free Brand Audit Today!
Don't miss out on the opportunity to take your brand to the next level! Fill out our form now to book your FREE BRAND AUDIT* and receive expert insights on how to improve your brand image. Limited spots available, act now!
*Terms and conditions apply. Requests will be pre-screened before qualifying for the offer.
By submitting this form, you consent to having FINN Partners collect your contact information and use it to respond to your inquiry. We will use it only for this purpose until you instruct us to remove it. For further details on what information is held, where and how to remove it please refer to our Privacy Policy.
Enquiries:
T: +65 6779 5514
E: infoAsia@finnpartners.com