Humans of the Agency: Santhosh Haridass
November 4, 2022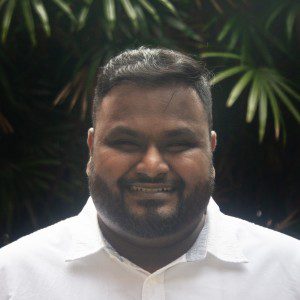 Santhosh Haridass, Marketing Ops
Joined: January 2022
By day, Santhosh Haridass is the Marketing Ops at Finn Partners Singapore. By night, he's a speed demon that prowls the streets and race tracks in a variety of race cars that he owns. From a Nissan GTR34 to a Mercedes-AMG F1 W08 EQ Power+ 2017, Santhosh has driven them all—but not once has he ever been caught by the traffic police.
That's because Santhosh doesn't race on real streets and race tracks. Instead, he participates in these high-speed, death-defying races in the comfort of his own bedroom via a full-fledged racing simulator. What's more, he built an entire rig on his own. With the lights off and the curtains drawn, it's as good as the real thing.
In this story, we find out where Santhosh discovered his need for speed, how he built and modified his simulator over time, and how his after-hours hobby aids his day job in subtle, surprising ways.
Q: How did you get into racing simulation games in the first place?
One of the first games that I played was called Gran Turismo, which is a racing simulator. That sparked my love for cars in general, or anything with engines, really. Growing up, I could name all the different cars on the road, like that's a Toyota, that's a Jaguar, and that's a BMW.
Even when I was serving my National Service, I was a driver! Of course, in the military, you don't get to drive nice cars, but they did teach me to tinker with engines, do a little bit of maintenance, how the weather and tyres would impact the driving experience, things like that. Learning about cars fueled my passion even more.
I also started go-kart racing in recent years. It's too costly in Singapore, but I would go to Johor Bahru over the weekend to do laps, go around the tracks, and have a great time.
Then, of course, COVID-19 happened, so I couldn't race in real life anymore.
Q: How did you transition into building your own racing simulator back home?
My friends and I, we are all petrol heads. We love cars. However, during the lockdown, we didn't have a social life, so we decided to combine our love for cars with our love for video games, and we thought it was a good way to have a social life virtually. We found ourselves meeting up in the games, racing on virtual maps, and doing crazy things just to de-stress.
Q: How did you begin to put the simulator together in your bedroom?
The first thing I did was to change the old computer monitor to a full-sized, 42-inch television. With a bigger screen, you're already halfway there.
Next, I bought an Alcantara bucket racing seat, which is the actual kind of chair they would use in a race car.
Finally, I bought the steering wheel, which came with an accelerator, a brake, a gear knob, and a clutch pedal. On the steering wheel itself, there are flaps that you can use to shift gears, depending on the car that you are driving.
Altogether, I spent about S$900 putting these elements together. It was a lot of part-time gigs (laughs).
Q: But you didn't just buy parts of the simulator, right? You did further modifications to make it even more realistic?
Yeah! The bucket racing seat itself is too low in relation to the screen, so I custom-built a wooden platform under the seat, which is adjusted to the height which positioned the screen at eye-level, adding to the immersive gameplay. I also had the platform made to be movable, because my room is not big enough and I need to shift it around out of convenience. On top of that, I installed these dark curtains in my room. At night, I would turn off all the lights, so no light comes in from the outside. This way, I am completely immersed in the simulation. It's as real as it gets.
An actual footage of Santhosh being a speed demon.
Q: What is your dream setup?
When you are driving a real race car, you get force feedback on the steering wheel. It basically uses a motor to generate resistance and feedback through the wheel. What I want is a direct drive wheel, where it's much more responsive and realistic. Also, I am playing on many Formula 1 race tracks right now, and there are actually replicas of steering wheels from Formula 1 race cars. I want to upgrade to those, map different buttons to different functions, which will allow me to race better in the game.
Q: Have you always been a creative, hands-on person?
My mother is the most creative person in the family. She likes to do these arty-farty things, especially during festive seasons. For this year's Chinese New Year, for example, she made a bunch of miniature tigers and placed them around the house. During Christmas, aside from the Christmas tree, she makes candies and other DIY decorations. So, from a young age, I learnt from her. Also, I am the only child, so I had a lot of time to entertain myself (laughs).
I think true creation allows you to be lost in time. You feel that sense of pride, especially when you create tangible things on your own. It's just what I love to do. To create things, modify them, make them my own.
Q: What do you get out of this very unique hobby?
At the end of a long week, my friends and I, we jump online, get into a lobby, and we just race on various tracks. We also have people from all over the world, because it's a global lobby, and everyone joins in. When we are playing the game, we concentrate on the game and have fun. For me, after two hours of driving on the weekends, it helps me develop focus, be more alert, be more responsive. That's because, if you are not alert enough in the game, you spin out of control.
Also, because the simulations are so realistic, there are real decisions we have to make as players. For example, depending on the type of track we are racing on, we need to think about whether we want our brakes to be biased towards the front or the back. We also need to think about when's a good time to enter a pitstop, because each stop costs time. There are hundreds of decisions happening all the time, and we cannot afford to be distracted.
This has taught me that there is no single solution to everything. That's what I've brought to my real life. We have to try different things. If it works, it works. If it doesn't work, learn and try something else. There's always a next race.