Turning Crisis into Opportunity: How Hong Kong's Quarantine Hotels Build Brand Love
November 30, 2021
Study by CatchOn, A Finn Partners Company, reveal factors shaping quarantine hotel sentiment – and how some hospitality companies are succeeding
Surviving hotel quarantine, whether for a mandated seven, 14, or 21 days, is no easy feat. But amid challenging times for the hospitality industry, government-enforced hotel quarantine schemes all over the world – perhaps most notably in Hong Kong – have offered opportunities for hotel companies to demonstrate what "hospitality" truly means for their brand.
In Hong Kong, hotels under the scheme run the gamut from more affordable select service brands to boutique hotels such as Ovolo Hotels, Nina Hotels, and Hotel Indigo, as well as five-star luxury hotels including the Landmark Mandarin Oriental, Hong Kong and Kerry Hotel.
While many hotels opt out of offering packages specially curated for quarantine, others that have gone the extra mile are seizing the moment to build brand love and nurture guest loyalty, building a reputation that may stand the test of time – quarantine or no quarantine.
CatchOn's travel team analyzed social sentiment focusing on facets of the guest experience like F&B, (quality and variety of culinary options) and services (the unexpected offerings and heart-warming moments crafted by the hotel team). Pre-existing factors such as pricing, location, and room size were excluded from the study. In addition to social listening and analysis, CatchOn conducted interviews with hospitality groups and quarantine guests to arrive at the following findings:
Tracing the customer journey: What matters to quarantine guests
With quarantined guests unable to maximize hotel facilities and services, quarantine packages are often far from being likened to a staycation. Most, if not all, of the trappings that come with the hotel experience are unavailable – including turndown service and use of the spa, swimming pool, and fitness center. Yet guests' sentiments on social media have tended to highlight more positive experiences in quarantine hotels.
In a social media sentiment analysis that included various quarantine support groups on Facebook counting a collective half a million members, concerns typically covered areas most visible to guests confined to their rooms 24 hours a day: rooms' cleanliness, internet speed, availability of food options, and approach to waste. As the adage goes: Every detail counts.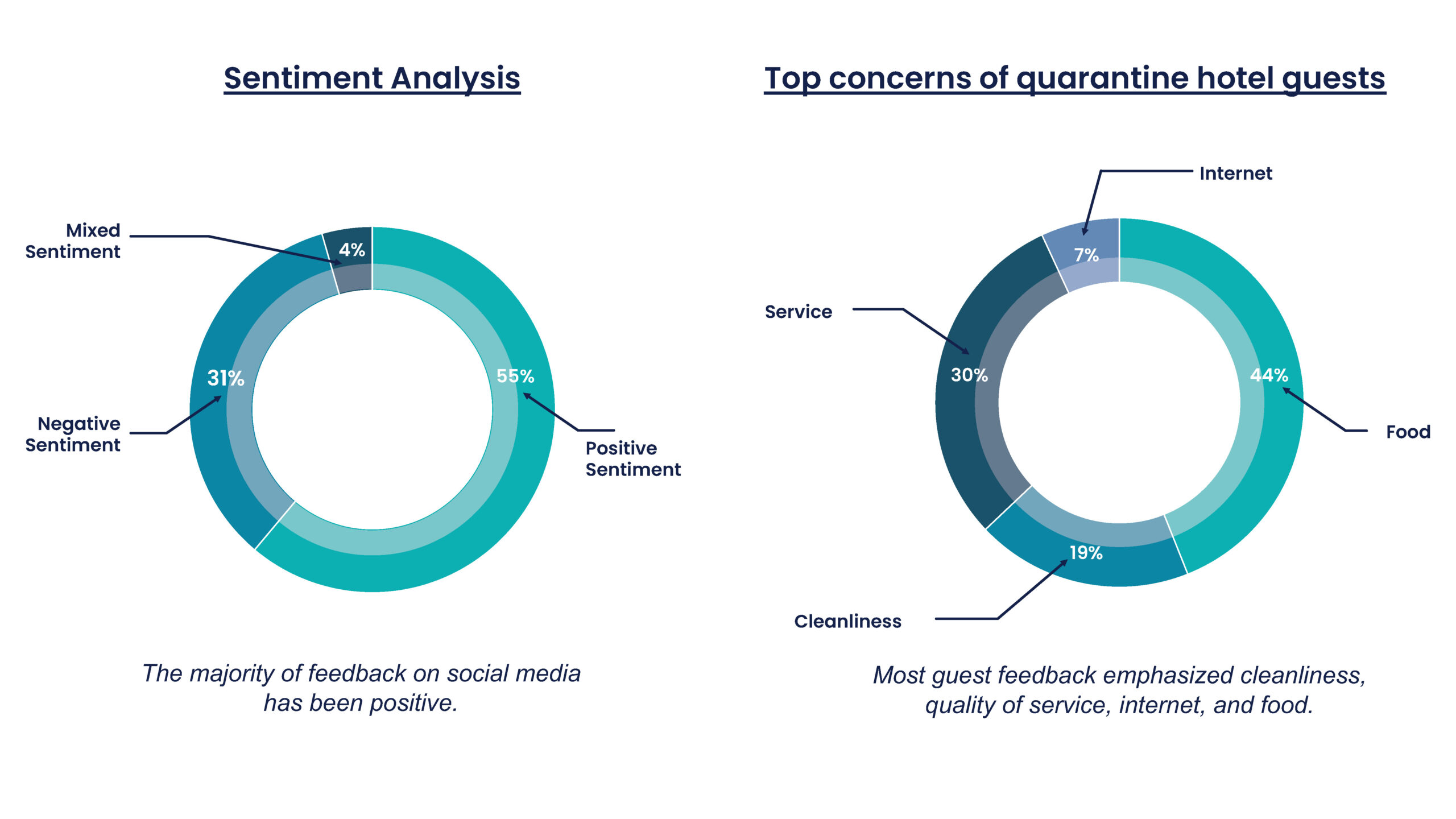 One property that has stood out in particular is the boutique hotel brand Ovolo Hotels, which received mostly positive reviews across social media. Among its early initiatives is the Quarantine Concierge, launched in mid-2020. Offered at Ovolo Southside and Ovolo Central, the package recognized the reality of quarantine in travel – and the importance of showing compassion and empathy for guests.
With over 40 percent of hotel feedback on F&B, a variety and quantity in choices when it comes to food appear to be top-of-mind for guests, especially given the limited options at their fingertips. Meal options must also cater to all types of dietary requirements. Some hotels offer up to four lunch and dinner options in addition to three breakfast options daily. At the Landmark Mandarin Oriental, Hong Kong, full board meals include breakfast, a two-course lunch, and a three-course dinner with fully vegetarian alternatives, served at a pre-selected time of the guest's choosing. Alongside vegetarian options, Four Points by Sheraton Hong Kong, Tung Chung and Hotel Indigo Hong Kong Island offer a choice between Asian and Western menus to cater to different preferences.
Beyond the ordinary: Thinking like a quarantine guest
While offerings such as in-room dining and round-the-clock assistance are considered part and parcel of a hotel experience, paying special attention to guests' mental and physical well-being demonstrates a certain level of care that can set a brand apart from the rest.
"We understood how stressful it would be for guests to come home and stay in a room for extended periods of time, especially under some of the world's strictest quarantine regulations," says Ovolo Hotels Founder & CEO, Girish Jhunjhnuwala. "We were determined to create something heart-warming and supportive to welcome back our Hong Kong residents – encouraging them that quarantine can not only be manageable, but maybe even beneficial. We wanted to make sure our guests felt like human beings and not prisoners trapped in their rooms."
Some quarantine hotels, for example, offer fitness kits with exercise bands and yoga mats, stationary bike and treadmill rentals, and, in the case of Nina Hotels and a few others, endearing initiatives such as free daily in-room happy hour that supplies guests with complimentary beers, wines, cocktails, and snacks – an effort to replicate the outside experience and offer virtual interaction between guests.
One interviewee who stayed at the Kerry Hotel, Hong Kong shares that an online group allowed for guests at the hotel to get together online for cocktail hour, particularly on Fridays and Saturdays when quarantine would typically take its toll. "As a result of the experience, our group has since physically gotten together a few times, and the bonds we've forged having lived through such an ordeal would not have likely happened under any other circumstances," the interviewee, who chose to be anonymous, shares.
"The core values of Nina Hospitality are about caring for people and the passion of making our guests feeling warm and being treasured at each of their visits," says Cissy Choi, General Manager of Nina Hotel Island South, one of two Nina Hospitality properties under the quarantine scheme. "As a designated quarantine hotel, services may not be able to deliver in the usual way, but we understand the special circumstances that everyone is facing, and we want to make their quarantine journey a less daunting one."
One-Eight-One is another hotel that offers inclusions that are out of the ordinary, yet certainly welcome: privileges also include rentals of PlayStation 5 and Nintendo Switch, yoga mats and resistance bands, and more.
Taking 'hospitality' to the next level
Key to crafting this distinct experience of hospitality is putting an emphasis on each touchpoint – from delivering a feeling of physical and emotional support through virtual help desks that respond in a timely, helpful manner, to going the extra mile with unexpected activities for adults and children alike. It is during these pleasant, or ideally even special experiences that a guest decides whether they will want to return in the future.
"All of these extra steps we aim to achieve help us build a very solid connection with each of our guests," says Choi. "We stayed in touch with several active guests and they have become #NinaFans, our brand ambassadors who spread our values to their 'successors,' or guests who are about to stay with us. Recently, #NinaFans organised a truly meaningful event called 'The Wave.' Hundreds of our guests were able to share loads of love and fun moments with the outside world via decorated windows. It was a strong showing of how we support each other during tough times."
For other hotels still, demonstrating compassion during such uniquely fraught times for the industry can go a long way in inspiring brand love. "A big part of our quarantine ethos is supporting likeminded local businesses. In February, we [also] launched a special initiative called The Ovolo Homecoming Project, where we partnered with different NGOs to bring stranded Hong Kong residents back home by offering HKD$1 per night room rates for those who are in financial distress," Ovolo Hotels' Jhunjhnuwala adds. Ovolo's participation in the hotel quarantine scheme has generated "a significant increase in brand awareness and reputation," with hotel capacity regularly above 80 to 90 percent and rooms fully booked months in advance.
What does hospitality mean at a time like this? At every price point, there appears to be opportunities for brands to express their own interpretation – all it takes is purpose.