Could China's travel trends hint at a global post-pandemic recovery?
April 28, 2021
While the prospects for international travel remain uncertain, domestic travel in China has already experienced somewhat of a bounce-back: air traffic on domestic routes landed at 98% of 2019 volumes last year thanks to a resurgence post-summer (Accenture). Further, it is a trend that has extended into the start of this year (Cirium).
Yet the Chinese traveller of 2021 will not be identical to that of 2019 in terms of motivations and preferences – and understanding this vital demographic is crucial to the travel industry at large, which relies on its custom. What is more, analysis of Chinese trends and the innovative ways the country has encouraged domestic travel – from 'all you can fly' offers to integrated digital experiences – may also help destinations, airlines, travel agencies and hotel providers as they plot their own roadmap out of the pandemic.
Ready to travel: road trips, 'all you can fly' and digital tours
Domestic destinations in China have naturally benefitted from restrictions on international travel – partly because of their accessibility, but also partly because they have successfully tapped into the emerging desires of the population. Here, safety of course tops the wish-list, but Chinese travellers have also turned en masse to self-guided road trips (McKinsey). This self-guided trend was one that started to take hold pre-pandemic. As we noted, Chinese vacationers have also taken to the skies, with airlines employing innovative measures to revive air travel: several have started to offer 'all you can fly' deals for holiday and hybrid business/leisure (or 'bleisure') travel (Singapore Tatler).
Increased confidence in the safety of domestic travel in China is also likely connected to the availability of fully integrated digital solutions. Tourists to the southwestern province of Yunnan, for example, can collect a card from the official 'Yunnan at Your Fingertips' WeChat account, which includes a health QR code and reservations for attractions, making travel more accessible (Go-Yunnan). This campaign marked its third anniversary last year, indicating that the trend towards digital integration has been well on its way in China for a while.
Travel companies and destinations can deliver on consumers' needs for safe and frictionless travel by allowing them to consolidate necessary information on their digital devices, which can act as a virtual travel agent and guide for tailored, unique experiences.
Outdoor attractions, local cuisine and family fun are key reasons to travel
With hygiene and safety top of mind, travellers in China opted for scenic outdoor, foodie, and family-themed sites in 2020 (McKinsey). Chengdu, the capital of southwestern China's Sichuan province, remained the top destination in China (CAPSE), boasting a mix of history, Sichuan cuisine, weather and local UNESCO World Heritage Sites. Not far behind were mega-metropolis Shanghai and beach-front Sanya, illustrating that travellers were seeking a break from the everyday.
For the October holiday – a peak travel time – Wuhan ranked number one on leading global travel services provider Trip.com's list of most sought-after tourist sites, followed by Shanghai's Disneyland and Xi'an's Terracotta Warriors. A major reason behind this was locals' desire to stimulate Wuhan's local economy post-pandemic.
On April 13, 2021, the Trip.com Group released additional data, showing a significant increase in mainland Chinese demand for travel to Macao in the upcoming May Day holiday – as Macao is the only destination which does not currently require a 14-day quarantine for mainland Chinese residents on arrival and return. Such indicators point to a pent-up demand for travelling abroad.
Travel companies can work with local partners, destinations or businesses to strengthen local economies. Promoting regional specialities and attractions – from delicacies to heritage sites – helps consumers discover new aspects and re-discover familiar areas with fresh eyes.
Looking forward to international travel: where do we go from here?
Driven by older consumers, domestic travel will likely continue to be the primary means of vacationing for the foreseeable future. Compared to other countries, China has the largest proportion of vacationers (41%) intending to travel more domestically after the pandemic (see Figure 1).
Figure 1: Global post-outbreak travel behaviours


Yet, at the same time, regional short-haul travel has the strongest chance of recovery in APAC, with China, Singapore, Japan and India displaying the strongest intent for short-haul travel post-outbreak, largely driven by younger generations.
Looking just at Chinese traveller intentions (see Figure 2), millennials are the most likely to take a short-haul foreign trip when allowed (14.8%), followed by Gen Z (7.5%). These generations are also least likely to go without a holiday in the coming year.
Figure 2: Chinese traveller intentions for the next 12 months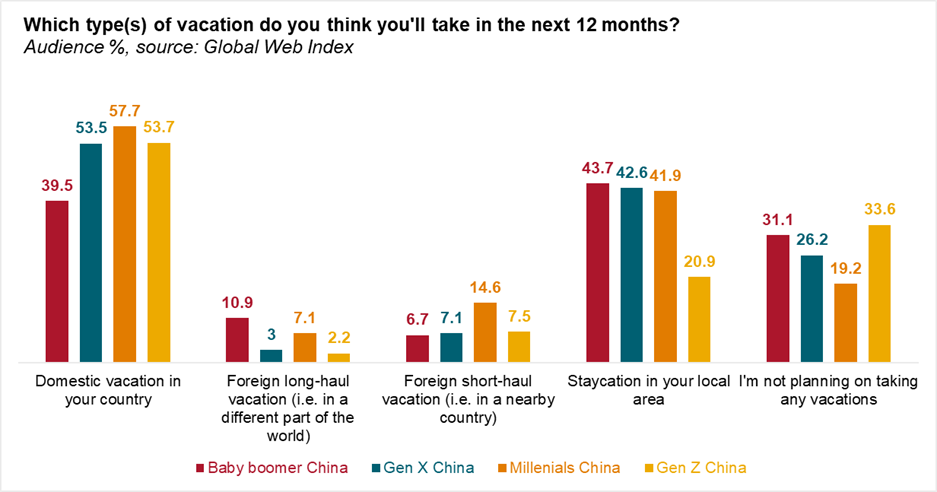 Generally, CAPSE predicts more niche, 'long tail travel', as people are hesitant to travel in groups, instead choosing nature and higher-end, luxury hotels. Statista's Global Survey (H2 2020) data supports this, with four in ten Chinese travellers favouring individual tours, and over half of them looking for unique experiences (see Figure 3).
Figure 3: Chinese traveller interests compared to the US and UK, source: Statista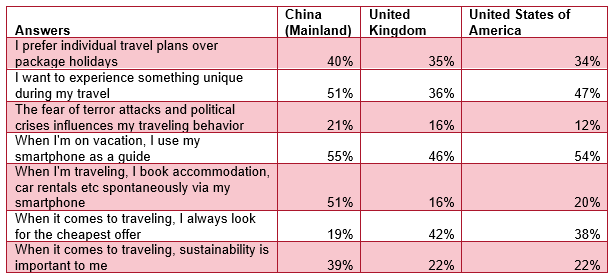 In the meantime, travel companies can make the most of virtual travel, encouraging consumers to dream, leveraging live-streaming for those who are currently unable or hesitant to travel.
As economies around the world open up – whether thanks to travel bubbles or vaccine passports – so will the opportunities for travel companies. Until then, events on social media for key destinations, working with strong partners, and using the data on travel over the past year can inspire travel marketers around the world to satisfy people's appetite for virtual – and, hopefully soon – physical travel.
You can get in touch with us at intelligence@finnpartners.com if you'd like to find out more about the research or our travel expertise.