A Chef's Guide to Eating Local in Singapore
February 27, 2023
As chefs head to Singapore this month to celebrate Asia's 50 Best Restaurants awards, there will be no shortage of stellar restaurants to satiate their palates. But hardcore foodies know that the city-state's true gastro pulse can be found in its iconic hawker stalls and one-dish specialty eateries. So we asked Singaporean chef Barry Quek of one-Michelin-starred Whey in Hong Kong to share his favourite food haunts.
Barry honed his craft in Europe and Australia before setting up post in Hong Kong with Whey, an homage to his Singaporean roots, its riotous culinary influences and robust flavours. Although his signature dishes are noted for their refined and deftly nuanced combinations, it's the home classics that he goes back to time and time again for inspiration.
His 'Must Eats'
Sungei Road Laksa at Jalan Berseh is as traditional as it gets, and they only make one thing – laksa cooked over a charcoal fire. Every day, they serve up hundreds of SG$3 bowls of soul-nourishing laksa to people who come from all over Singapore to eat at this laksa stall.
For Indian food, the coin prata at Mr & Mrs Mohgan's Super Crispy Roti Prata always hits the spot, well worth the 90-minute queue.
Affectionately known for selling 'Singapore's favourite nasi lemak', The Coconut Club perfected each component of a nasi lemak over the years: the fluffy coconut rice, a spicy and flavourful sambal, the perfectly cooked and juicy ayam goreng (fried chicken). It now has two locations across Singapore but the original flagship is worth visiting for its gorgeous historic shophouse aesthetic.
Chia Keng's Fried Hokkien Mee is a firm childhood favourite, a saucy plate of noodles packed with plenty of umami from the prawn stock used to cook the noodles and the gravy mixed into the dish. Chia Keng's version also has a very distinct wok hei taste which is what really makes a good plate of Hokkien mee.
Bak Chor Mee, or mince meat noodles, is a traditional hawker dish that is very popular in Singapore. But Seng Huat Coffeehouse's Bak Chor Mee is a go-to for three reasons: the incredibly flavourful gravy, the texture combination of crispy fried ikan bilis and springy noodles, and they're open 24/7!
Lau Pa Sat is a popular hawker centre and iconic landmark deigned a tourist trap by some, but Barry recommends visiting the satay vendors, which still serves some of the best satay in the country.
You can't say you've been to Singapore if you haven't eaten chicken rice. For the best chicken rice in town, head to Maxwell Food Centre. Tian Tian Chicken Rice is probably Singapore's most famous chicken rice stall, well-known by both locals and foreigners, and even after decades of business, it still holds its own. A mere two stalls down is Ah Tai Hainanese Chicken Rice, which also offers juicy and succulent chicken. You can't go wrong with either.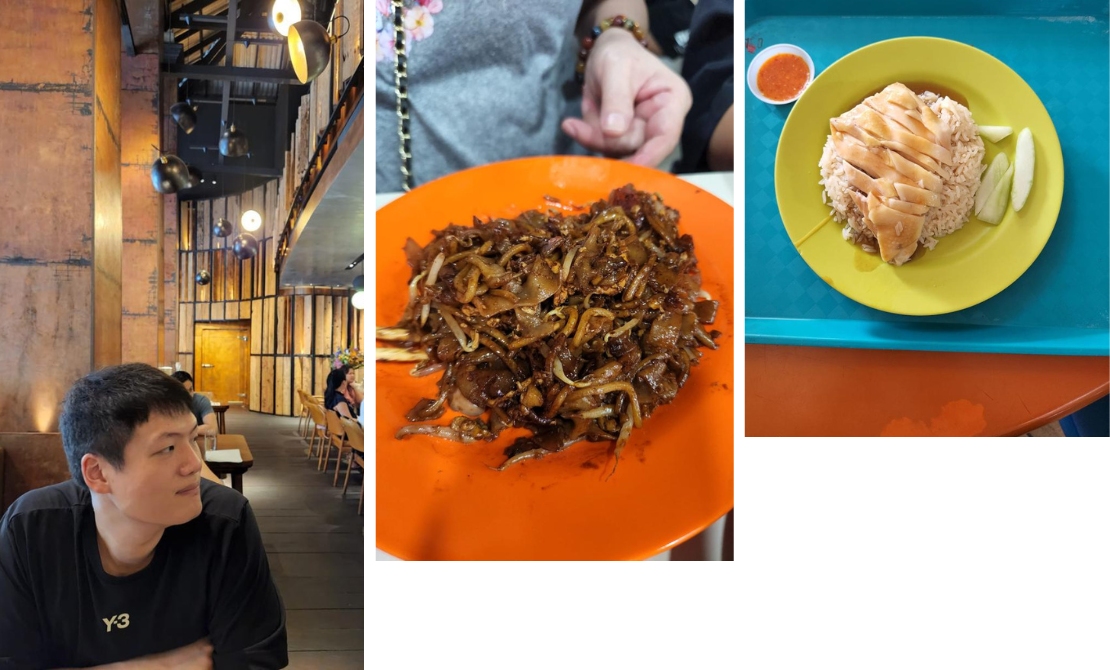 Cantonese Delights is a perennial favourite at Hong Lim Food Centre. Bring some friends and order a few dishes to share, the wanton noodles, chicken cutlet noodles, curry chicken noodles and shredded chicken hor fun are all must-tries.
Loosely translated to 'cook and fry', cze char, one of Barry's family's favourite ways of eating, refers to a selection of comforting Chinese home-style dishes which are cooked to order and eaten communally. Keng Eng Kee at Bukit Merah is one of the most popular cze char restaurants in Singapore, for good reason. Expect a wide variety of delicious homecooked foods, perfected over three generations of chefs. Barry and his family order the claypot pig liver and coffee pork ribs every time.
Opened in 1920s, Beach Road Prawn Noodle House has become an iconic prawn noodle shop in Singapore, with people travelling from all over to come enjoy the near century-old Lee family prawn noodle recipe.
One of Barry's favourite snacks is the incredibly addictive kueh tutu, a small steamed cake made of finely ground rice flour and filled with either ground peanuts or grated coconut cooked in gula melaka. For his favourite kueh tutu in Singapore, he recommends e Food Fun at the Pasir Ris Central Hawker Centre.